The internet has irreversibly changed the world in ways good and bad, but its greatest legacy may be bringing super-dark, nihilist humor into the mainstream. Comments that formerly led to non-negotiable bear hugs are now met with retweets. But our dreary outlook's greatest victory came on Sunday, when Disney's official Twitter account -- of all places -- tweeted out a real bummer of a GIF.
Recommended Video
This Restaurant Reinvented the McGriddle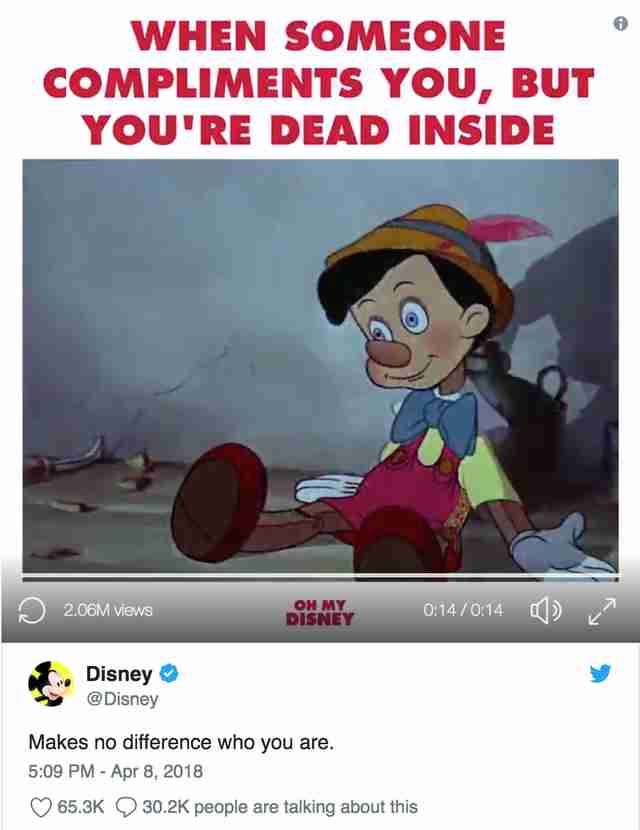 Clearly, the internet took notice here as Disney's 5.9 million followers weren't prepared for undistilled "dead inside" humor from the Mouse House. A GIF of Pinnochio captioned "when someone compliments you but you're dead inside" received 30,000 retweets and a whole lot of shocked responses.
Finally, on Monday, Disney appears to have deleted the tweet, which only adds to the mystery. Was it a rogue social media manager? Is it a further expression of nihilism (because what's the point of tweeting anyway)? Thus far, Disney has been mum on the incident. You can keep your fingers crossed for closure here, but right now it looks like Mickey's dark mood will remain a mystery forever.
In the meantime, the internet has been expressing its concern the only way it knows how: by tweeting jokes and GIFs.
If there's one thing we know for sure, it's that whoever tweeted this was a troubled and brave soul. Wherever they are now, we salute them.
Sign up here for our daily Thrillist email and subscribe here for our YouTube channel to get your fix of the best in food/drink/fun.