Disneyland's New Riverfront Is Changing Everything
When you head to Disneyland, you know what you're getting yourself into. Except, that's all about to change. In fact, pretty soon, Tom Sawyer won't get as much sleep, since a new railroad will thunder by his homey little island, for example. See? Even fictional characters have to deal with construction.
To make way for the opening of Disneyland's new Star Wars Land, the tried-and-true scenery of Frontierland is undergoing major renovations, including a new waterfront being built on the north bank of the Rivers of America. That's the waterway that the Mark Twain River Boat travels down. It looks lovely, so no Frontiersmen are complaining about the changes being made to their land... yet.
The new layout includes an elevated trestle, which will serve as a track for the Disneyland Railroad. But there's a downside. According to the LA Times, attractions like the Big Thunder Ranch, the Mark Twain Riverboat, the Davy Crockett Explorer Canoes, Pirates Lair on Tom Sawyer Island, and the Disneyland Railroad, as well as others, will be closed during the renovations. Sorry, fans of historical Disney attractions.
After all the construction, however, guests will get to enjoy both the new riverfront and all 14 acres of Star Wars land, so it's not a complete wash.
Check out the concept illustration courtesy of Walt Disney Imagineering below, and get a complete panoramic view here.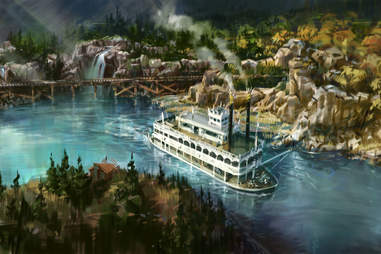 Walt Disney Imagineering
Sign up here for our daily Thrillist email, and get your fix of the best in food/drink/fun.
Kara King is a News Writer at Thrillist and loves a Mark Twain Riverboat cruise. Send news tips to news@thrillist.com and follow her at @karatillie.