Disneyland Is Finally Opening Its First-Ever Brewery
Courtesy of Ballast Point Brewery
Where going to Disneyland once meant hot dogs, roller coasters, and family pictures with a sweaty teenager dressed as Goofy, it can now also mean IPAs, double IPAs, and, if you're lucky, grapefruit IPAs. Disneyland's first-ever on-site brewery in Downtown Disney is opening on January 16, 2019.
Originally announced in January 2018, Ballast Point Brewing is ready to open its 7,000-square-foot location inside the theme park. "The family-friendly spot offers more than fifty styles of Ballast Point's adventurous beer across 100 tap lines," the brewery stated in its announcement.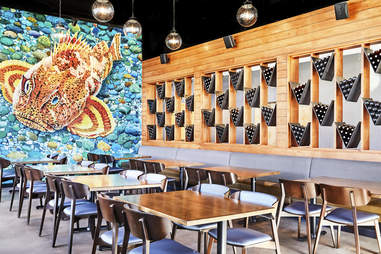 Courtesy of Ballast Point
It won't just be serving up Ballast Point classics like Sculpin IPA and the Commodore American Stout, however. The space is a three-barrel "research and development" brewery that will brew its own beer in addition to having a restaurant and outdoor beer garden. It previously promised "exclusive, custom, limited-edition beers" available only at the Disneyland location.
Meanwhile, the brewery's seasonally-inspired food menu has promised a "taste of San Diego" with recipes that include Ballast Point beers, crafted by its new Executive Sous Chef, Joey Lerma.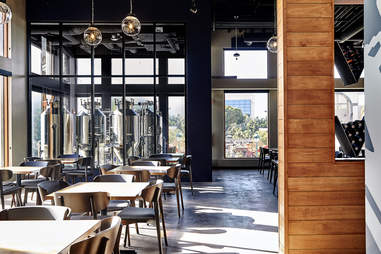 Courtesy of Ballast Point
"Ballast Point is born and raised in Southern California, so we're particularly excited to strengthen our relationship with the local Anaheim community and beyond this, the many guests who visit Disneyland each year," Ben Dollard, president of Ballast Point Brewing, said in a statement. "This new location also gives our passionate brewing and culinary teams the perfect place to test new and inventive offerings, as we welcome longtime Ballast Point fans and introduce new guests to our brand."
Ballast Point, which was purchased by Constellation Brands in 2015, now has seven locations in California and nine nationwide. It also has plans to open a brewery and kitchen in San Francisco later this year. But there's only one location where you can enjoy hoppy suds while watching a middle schooler hurl their brains out after their 15th ride on the teacups.

Sign up here for our daily Thrillist email and subscribe here for our YouTube channel to get your fix of the best in food/drink/fun.