Although the the first of four sequels to James Cameron's Avatar isn't slated to hit theaters until sometime in 2018, it turns out you won't have to wait that long to return to the stunning alien world of Pandora. Disney just unveiled plans to build a massive Avatar theme park -- complete with Na'vi-inspired rides and attractions -- at Disney World, and it's slated to open next summer.
Disney recently announced the new park, Pandora -- The World of Avatar, will arrive as part of the ongoing expansion of the Animal Kingdom at the company's Orlando, Florida resort. The immersive world will be set in a period long after the Resources Development Administration (RDA) was forced to end its destructive search for Unobtanium, and will include dazzling "floating mountains, bioluminescent rainforests and soaring Banshees," according to a press release. Disney said it created the new land in collaboration with filmmaker James Cameron and Lightstorm Entertainment. 
Recommended Video
The 5 Most-Plausible Endings for Your Favorite 'Game of Thrones' Characters
Pandora will also boast new rides and attractions, which Bob Chapek, Chairman of Disney Parks and Resorts, promises will "set new high-watermarks for our experiential magic we give our guests." A thrill ride called The Avatar Flight of Passage will send passengers flying over the jungles of Pandora on none other than a Mountain Banshee, while a family-friendly ride called Na'vi River Journey is a boat ride adventure through the world's bioluminescent forests. Just don't let Neytiri catch you stumbling around all over the pretty glowing plants.
Additional attractions include the Windtraders store, where you can buy Na'vi cultural items and other trinkets, as well as a restaurant and a bar, Satu'li Canteen and Pongu Pongu, respectively. So far, there's no word on if there will be actors walking around in 10ft tall Na'vi costumes, but a video teasing Pandora suggests it's safe to expect at least a few startlingly life-like Na'vi animatronics.
Disney expects Pandora's, uh, gates to open in the summer or 2017, according to a press release. Hopefully, getting tickets will be easier than finding Unobtanium.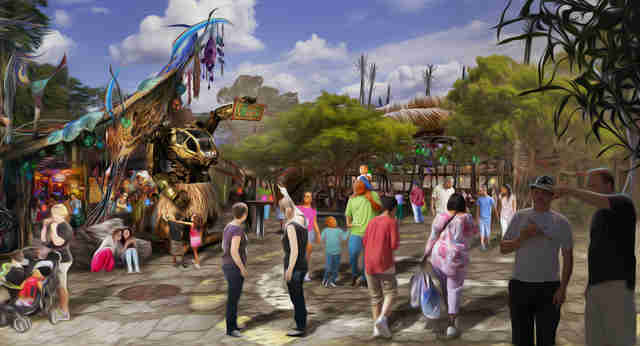 Sign up here for our daily Thrillist email, and get your fix of the best in food/drink/fun.