Let's just end this right here, right now: women certainly do watch porn -- however, commenters on DailyMail cannot seem to wrap their heads around the notion.
After an article came out entitled "Revealed: One in three women admit they watch porn at least once a week - and most say they use their cell phones to view the X-rated footage," in which it was revealed DailyMail writes really long headlines and that 62% of women view XXX material on their smartphones, DailyMail readers lost their shit. And not over headline length.
"I don't believe it," says user SunnySeriously, "my wife would never do this. She has class," comments a UK man under the username york_man. This, of course, prompts people to ask why? Why is it so hard to believe that women knuckle-blast their baby-makers to smutty movies? 
The original study, initially assembled by British photographer Amanda de Cadenet and Marie Claire, surveyed 3,000 women to learn about their porn habits. 3,000 women! Why would 3,000 women all lie? Who would do that... go on the Internet and tell lies. 
Not only do DailyMail readers find the act unbelievable, but those who do believe it find the act incredibly disgusting, even though  "76 per cent say porn doesn't negatively affect their sex lives or relationships in any way."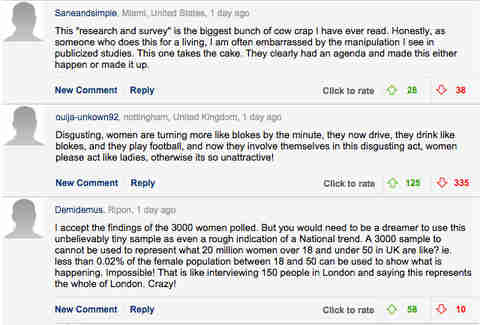 JESUS, dude, some of the commenters even go as far as to say the statisticians themselves are full of crap.
One could step back and comment that the original survey is a bit obvious -- I mean, of course women watch porn. We don't need a survey to tell us that. On the other hand, maybe we do if there's this much idiocy in the world.   
(h/t: The Independent) 
Sign up here for our daily Thrillist email, and get your fix of the best in food/drink/fun.
Jeremy Glass is a writer for Thrillist and not only watches porn, but acts in it too.