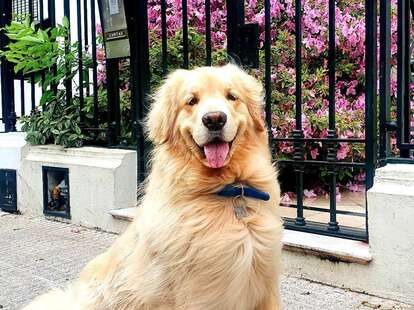 Courtesy of @oso.the.golden
Some dogs, in particular, love getting out to run and play somewhere other than their backyard. For them, a day at the park is the ultimate day out.
Take Oso, who protests leaving the park by pretending he doesn't know owner Carolina Paludi when it's time to head home. Oso doesn't just refuse to leave the park, though. Instead, he wanders away from Paludi and lingers near other park visitors to make it seem like he's their dog.
Don't believe it? Paludi shared a video of her pup in action on TikTok.
"Oso does this every time it's time to leave the park," Paludi told The Dodo. "He gets close to another family and ignores me."
She also revealed that while he usually just cozies up to another family, he occasionally takes the act up a notch by going to greater lengths to prove he fits in with his "new family." For example, Paludi captured Oso doing yoga with a new group of friends once.
Folks Oso tries to blend with don't seem to mind his company, even if it's fleeting, because although he hates leaving the park and tries to avoid it, he always comes back to his owner eventually.
Caitlyn Hitt is Daria IRL. Don't take our word for it—find her on Twitter @nyltiaccc.