Domino's Now Delivers Pizza to Beaches, Parks, and Other Spots Without an Address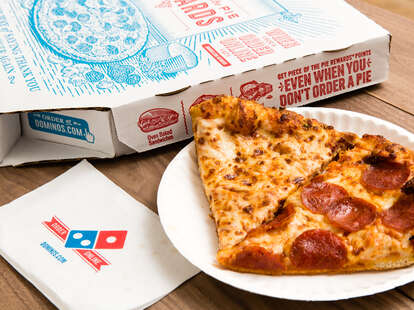 A trip to the beach isn't complete without a proper stash of snacks, much like hanging out in the park without at least a mini picnic is less than ideal. However, schlepping all the fixins into the great outdoors can end up being a giant hassle. That's why Domino's is making it a lot more convenient to get a hot pizza delivered right to your proverbial doorstep, and is now expanding its delivery area to include places like local parks, beaches, and other popular destinations that don't have traditional physical addresses.
The pizza mega-chain announced on Monday that it will now be accepting delivery orders to over 150,000 "Hotspots" around the country that don't bear traditional addresses, dispatching drivers certain outdoor areas of interest -- local parks, beaches, sports fields, etc. -- and allowing customers to specify for drivers exactly where they are.
"We listened to customers and their need for pizza delivery to locations without a traditional address," said Russell Weiner, president of Domino's USA in a press release. "We know that delivery is all about convenience, and Domino's Hotspots are an innovation that is all about flexible delivery options for customers."
To take advantage of the new perk, you'll have to order online either via the Domino's mobile app or its website, then check to make sure you're near one of the supported Hotspots (they'll pop up on a map). Before checking out and prepaying, you'll have the option to leave specific directions for the delivery person to help them find you, but you'll also get texts to alert you of your order's progress including a final one with an estimated arrival time at the specified hand-off spot.
Domino's hasn't specified whether an additional fee will be added to Hotspot orders, though it appears for now it's covered by whatever the traditional delivery fee is in your area.
Can't help but count this as a win for the staunch defenders of laziness among us.
h/tReuters
Sign up here for our daily Thrillist email and subscribe here for our YouTube channel to get your fix of the best in food/drink/fun.