Domino's New App Helps You Order Your Pizza by Reading Your Mind
Don't worry, we'll explain...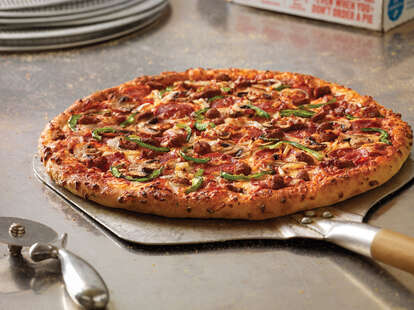 Stranger Things is premiering the first volume of its final season in a mere 10 days, and to celebrate, Domino's is introducing its own strange thing, a mind ordering app that lets you choose your pizza based on facial expressions.
The pie slinger is transporting "test subjects," otherwise known as you hungry people, to the Hawkins National Laboratory so you can use your powers for good, which means for eating.
"Is mind ordering real? At Domino's—it absolutely is," Senior Vice President of Brand and Product Innovation Kate Trumbull said in a press release. "Domino's customers and 'Stranger Things' fans can now channel their inner Eleven by using telekinetic powers to order pizza with their mind."
Here's how it works. Customers with a Pizza Profile and existing saved Easy Order can use the app's facial recognition and eye-tracking technology to choose their toppings with facial expressions and head movements, seriously.
"We're geeked to launch this first-of-its-kind mind ordering app, just in time for the premiere of Stranger Things new season," Trumbull added in the release. "Now hungry customers and Stranger Things fans across the US will get a taste of what it's like to be Eleven, and they may find some hidden surprises along the way, such as the Noid or Demogorgon."
The mind ordering app is available for download in the App Store or Google Play. Domino's is also rolling out a retro 1980s pizza box for medium and large pies (not including the Handmade Pan pizzas), so you can really immerse yourself in the Stranger Things world when it comes premiere time on May 27.