America's Roads Are So Bad, Domino's Is Fixing Them to Protect Pizza Deliveries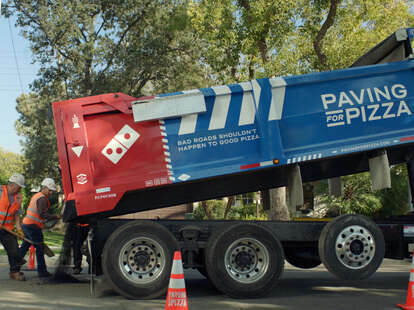 There are a lot of things that can ruin a perfectly good pizza: an undercooked crust, an overcooked crust, eating it with a fork and knife, pineapple... However, the pie-slingers at Domino's are convinced the biggest threat to pizza these days is America's crumbling infrastructure. The company has set out to repair cracked roads and potholes across the country to help protect your steaming-hot large pepperoni pie from getting messed up from a bumpy ride.
Yes, really.
In an elaborate marketing stunt orchestrated by the massive fast-food pizza chain, Domino's has launched the Paving For Pizza initiative, and is offering to foot the bill for pothole maintenance in towns and cities across the United States where disruptive bumps in the road are really pissing people off (and presumably endangering the safe transport of pizza).
Since many municipalities are mostly useless when it comes to fixing their roads in a reasonable timeframe, Domino's is taking it upon itself to keep your car rides free and clear of unexpected bumps and rumbles. As part of the program, the company is asking people to visit a dedicated website to nominate their towns to have its potholes filled. If yours gets picked, they'll partner with a local crew and send them to work (while ensuring the mended road spot is emblazoned with a Domino's logo and "Oh yes we did" slogan, of course).
"Have you ever hit a pothole and instantly cringed? We know that feeling is heightened when you're bringing home a carryout order from your local Domino's store. We don't want to lose any great-tasting pizza to a pothole, ruining a wonderful meal," said Russell Weiner, president of Domino's USA, in a press release. "Domino's cares too much about its customers and pizza to let that happen."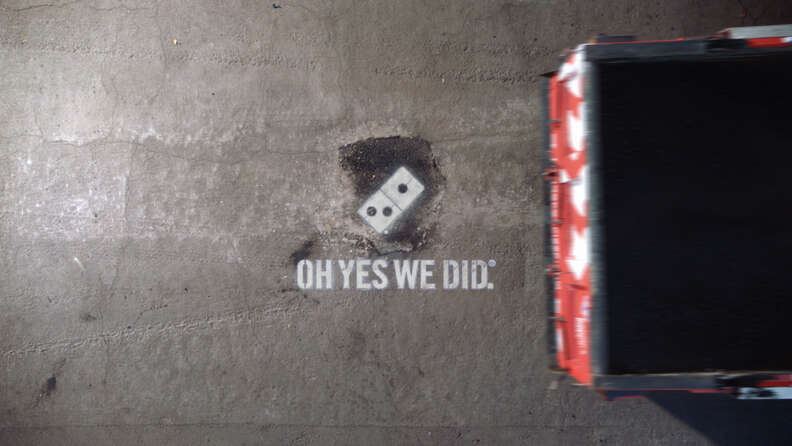 Domino's hasn't said how many towns it plans to visit, but its actually already tackled road projects in a few places including Bartonville, Texas; Milford, Delaware; Athens, Georgia; and Burbank, California. There's also no simple way to explain why your town's pothole problems are worse than another's (nominations simply involve submitting your town's zip code), so the ones that get chosen are seemingly random.
And even if your roads don't make the cut, you're not totally out of luck -- Domino's is currently running a carryout special that gets you three large pizzas for $7.99 each.
h/tJalopnik
Sign up here for our daily Thrillist email and subscribe here for our YouTube channel to get your fix of the best in food/drink/fun.