Domino's Entire Menu Is Now 20% Off After 9 Every Night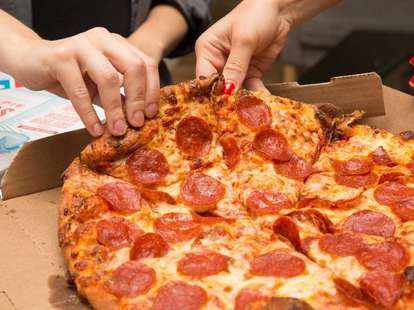 It's Saturday night, maybe you've had a few beers, and that midnight craving hits. Domino's is, without fail, the answer. And while the chain's crust options and stuffed cheesy bread are enough to warrant a late-night order, we now have an even better incentive: a pretty significant discount at night.
From now through whenever the chain feels like ending the deal, Domino's is offering 20% off every single regularly-priced item on the menu and the only stipulation is that you order after 9pm, Brand Eating reports. You will want to double-check participating locations and close times, though. Those can vary.
Now if you're wondering why this actually sounds like a downgrade, it's probably because you've seen those 50% off promos. So let me provide some clarification: those are pizza exclusives. This late-night offer basically includes everything on the menu. Why would you opt for a few slices when you could have a feast of Parmesan Bread Twists, Chicken Alfredo, Wings, and more. You wouldn't. Plus, reminder, the more you order the bigger your discount. That's how percentage math works, guys! Hurrah!
We don't know how long the deal is sticking around for, so a word to the wise: take advantage while you still can. I mean, c'mon, look at it!
Sign up here for our daily Thrillist email and subscribe here for our YouTube channel to get your fix of the best in food/drink/fun.
Megan Schaltegger is a staff writer at Thrillist. Follow her @MegSchaltegger.