Domino's Is Offering $5.99 Large Pizzas for Just One Week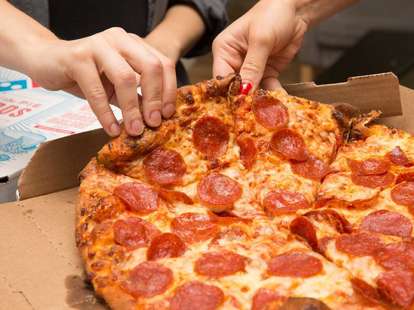 It takes laughably little to get most people to order a pizza. You never lose, right? Even an okay pizza is a solid meal.
Nonetheless, if you're somehow looking for an excuse to order a pizza, Domino's has put a deal together that bridges National Cheese Lover's Day (January 20) to National Pie Day (January 23) and even a few days afterward. From January 20-26, Domino's has a weeklong offer that will land you a large two-topping pizza for just $5.99.
The deal is available for phone, in-store, mobile app, or web orders. Though, it's not available for delivery. You'll have to get carryout.
This new discount is available in addition to the Domino's Mix & Match menu, where you can order any two items and get each one for just $5.99. The options include a medium two-topping pizza (rendered a bit pointless by the large pizza deal above), Bread Twists, salad, Marbled Cookie Brownie, Specialty Chicken, Oven-Baked Sandwich, Stuffed Cheesy Bread, Eight-Piece Boneless Chicken, or pasta.
The choice is yours, but you'll definitely be able to get full on $5.99 this week.
Sign up here for our daily Thrillist email and subscribe here for our YouTube channel to get your fix of the best in food/drink/fun.