Domino's Tested a Drone That Flies Pizza to Your Doorstep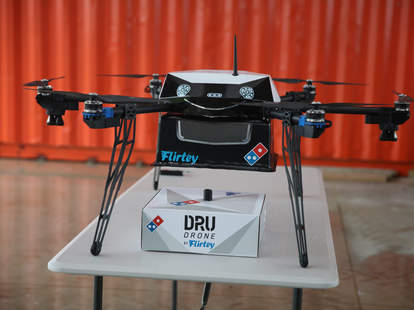 The next pizza you order could arrive at your doorstep from the sky. Domino's Pizza has entered a partnership with the drone-maker Flirtey to begin delivering pizza via flying drones. The partners hope to launch the program in New Zealand by the end of September and did a test flight Thursday.
The plan is theoretically wonderful. Drones could deliver pizzas quickly and efficiently. Plus, what better way to start a relationship with humanity's new robot overlords than by having them bring you pizza? While tests have been done in New Zealand, they're still awaiting approval from New Zealand's Civil Aviation Authority (CAA), who were present at Thursday's demonstration of the technology. It's exciting, but there are still many obstacles in the way, and there are even more obstacles to the program's arrival in the United States.
In America, the Federal Aviation Administration (FAA) has stricter drone regulations than in New Zealand, including a regulation passed in June that requires the pilot to be within sight of the drone at all times. That roadblock will no doubt mean a slow progression from the present to the moment where Americans are making Operation Dumbo Drop jokes with a mouthful of sky pizza.
Even in New Zealand, there is skepticism. Philip Solaris, director of X-craft Enterprises — a CAA-approved drone manufacturer — told Stuff.co.nz that Thursday's demonstration was nothing more than a publicity stunt. He called Domino's proposal "completely unfeasible."
Nonetheless, Domino's is digging in and trying to make drone deliveries, like those promised by Amazon back in 2013, a reality. "With the increased number of deliveries we make each year, we were faced with the challenge of ensuring our delivery times continue to decrease and that we strive to offer our customers new and progressive ways of ordering from us," said Domino's Group CEO and Managing Director Don Meij in a statement.
"Adding innovation such as drone deliveries means customers can experience cutting-edge technology and the convenience of having their Supreme pizza delivered via air to their door. This is the future."
If the first wave of pizza delivered by drone launches on schedule, it will be a big deal for the catering team on Peter Jackson's next Lord of the Rings adaptation, which can't be that far off. Never will it have been easier to get 75 hot pizzas delivered straight to Bag End. 
Sign up here for our daily Thrillist email, and get your fix of the best in food/drink/fun.
Dustin Nelson is a News Writer with Thrillist. He holds a Guinness World Record, but has never met the fingernail lady. He's written for Sports Illustrated, Men's Journal, The Rumpus, and other digital wonderlands. Follow him @dlukenelson.