The 'Affluenza' Teen Gave Himself Away by Ordering Domino's Pizza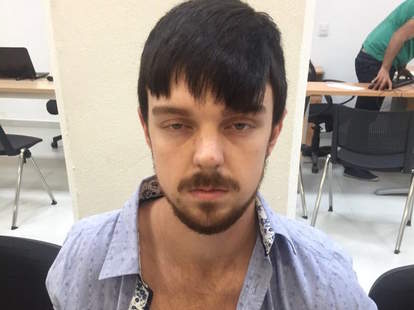 Ethan Couch, the Texas teen who you've probably seen all over the news because of his bizarre "affluenza" defense after causing a deadly drunken driving crash, will return to the US on Wednesday with his mother after authorities busted the fugitives in Puerto Vallarta, Mexico. And get this -- a phone call made to order Domino's Pizza led authorities to capture the 18 year-old and his mom, Tonya Couch, according to a report by the Associated Press.
As the report goes on to explain, the Couches were detained by police on Monday night after a Domino's delivery order linked to one of their phones prompted authorities to launch a surveillance operation in the streets surrounding an apartment in the city's old town section. But their dumb streak didn't end when they were intercepted by police, as they reportedly lied about their names and migratory status in Mexico. Ultimately, they were handed over to immigration officials and placed on a commercial flight bound for Houston, per the AP.
For those of you who have successfully avoided repeatedly hearing about the case on network news shows (good for you), Couch was was placed on juvenile probation after killing four people in a drunken driving crash back in 2013 and fled the country with his mother when authorities started to look into evidence that he had violated the rules of his probation. The ridiculous "affluenza" defense comes from a defense expert, who at Couch's sentencing, argued that he was irresponsible because he grew up coddled by his parents and their wealth. Obviously, that's a laughably made-up medical condition, which sparked further outrage surrounding the case. So if you're feeling angry right now, you're not alone.
 
When Couch returns to Texas, he'll be held until a probation violation hearing on January 19th and could face further punishment. His mother could face arrest and third-degree felony charges for assisting Couch in fleeing, according to the report. Needless to say, they won't be enjoying any delicious pizza in jail.
Sign up here for our daily Thrillist email, and get your fix of the best in food/drink/fun.
Tony Merevick is Cities News Editor at Thrillist and, despite his love for pizza, would never make such a dumb mistake. Send news tips to news@thrillist.com and follow him on Twitter @tonymerevick.