Disney Unveiled Trump's Hall of Presidents Robot & Everyone's Cracking the Same Jokes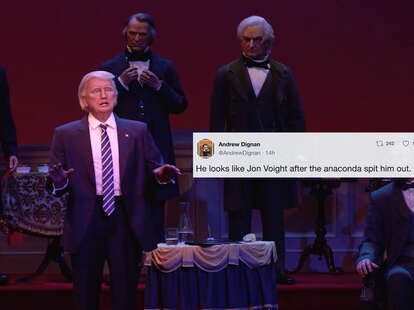 credit: edited - courtesy of Disney
credit: edited - courtesy of Disney
Despite the fact that he tends to stick to a familiar script, President Donald Trump is not a pre-programmed robot. But Trump's introduction to Disney's Hall of Presidents on Monday saw the 45th president christened as an animatronic robot, wherein he recited a pre-recorded speech.
It was a weird scene: Since Disney World houses a robotic model of every president, Trump's speech occurred among the likes of Abraham Lincoln, Barack Obama, and even Herbert Hoover. He waxed lyrical about America as dramatic music played in the background. But because Trump's robot model looks like a bizarre hybrid of him and the actor Jon Voight (and, as a few people have pointed out, maybe even a touch of Hillary Clinton), it lit Twitter aflame.
The Trump robot -- or Clinton/Voight cyborg -- marked the reopening of the Disney Hall of Presidents after a year of revamping the facility, according to a Disney blogpost. The feature was supposed to draw open its curtains in June, but the grand unveiling was delayed six months. Trump recorded his speech explicitly for the spectacle, as has every sitting president since the early '90s.
As it's only a robot, it's unlikely that the animatronic Trump will fuel itself on McDonald's cheeseburgers, as the president does. But then again, we didn't design the thing, so we can't really be sure.

Sign up here for our daily Thrillist email and subscribe here for our YouTube channel to get your fix of the best in food/drink/fun.

Sam Blum is a News Staff Writer for Thrillist. He's also a martial arts and music nerd who appreciates a fine sandwich and cute dogs. Find his clips in The Guardian, Rolling Stone, The A.V. Club and Esquire. He's on Twitter @Blumnessmonster.