Donald Trump Reportedly Eats His Extra Well-Done Steaks with Ketchup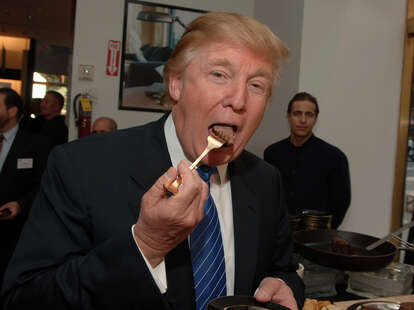 Getty Images
Getty Images
At this point, it's no secret that Donald Trump orders his steak extremely well done, or as some would say, like a damn fool. But it turns out the president's longtime disregard for the conventional way of enjoying a nice cut of beef is even worse than previously known. Apparently, he puts ketchup on his steaks, too.
Over the weekend, Independent Journal Review reporter Benny Johnson was tipped off by a source that President Trump planned to have dinner at BLT Prime by David Burke inside his new Washington D.C. property, and managed to get a table right next to where the president would end up dining with a handful of guests -- all while the White House pool reporter was prohibited from entering the building. From his crazy-close vantage point, Johnson captured a rare look at what it's like when Trump goes out for dinner and even found out what he ordered: a well-done 28-day dry aged New York strip steak served with ketchup, along with a few appetizers and sides shared with the table, according to the report.
Eater points out that the steak is normally served with herb butter and costs $54. The president's ketchup must have been a special request, since it doesn't appear to be an official option on the restaurant's menu. But then again, the man's the President of the United States and he owns the place, so he can basically have whatever he wants.
Yes, this is far from the most important or controversial story about Trump and his administration, but it's an interesting follow-up to past coverage of the president's notably strangeeating habits. And, come on, you have to admit that ketchup on an expensive steak is pretty weird, dare we say deplorable, regardless of who you are.
h/t Eater
Sign up here for our daily Thrillist email, and get your fix of the best in food/drink/fun.
Tony Merevick is Cities News Editor at Thrillist and the last time he ate steak with ketchup was when he was four or five. Send news tips to news@thrillist.com and follow him on Twitter @tonymerevick.