DoorDash Is Giving Unlimited Free Delivery to Chase Card Holders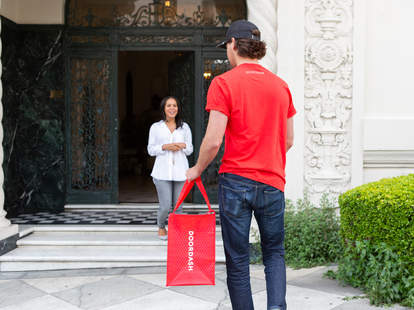 It's entirely worth it to travel to a restaurant when you want foie gras and decanted wine, but cheaper, more-easily transported meals belong on your overcrowded coffee table, paired with a well-aged TV marathon. That's the main reason why DashPass, DoorDash's paid subscription service, is so enticing - -you don't have to pay an extra 20% of your cheap meal on delivery/service fees. And now, Chase credit card holders are getting this subscription for free. 
More specifically, DashPass grants you $0 delivery fees and reduced service fees on orders of $12 or more. On Tuesday, Chase announced a new relationship with the DoorDash, to offer complimentary DashPass subscriptions for Sapphire, Freedom, and Slate cardmembers. Chase credit card holders can reap the benefits immediately. Just add an eligible Chase credit card as the default payment in the DoorDash app. Note that the benefits vary depending on the card you have.
Here's the breakdown: 
Chase Sapphire Reserve and Preferred cardmembers will have access to complimentary DashPass for a minimum of one year (valued at over $100).
Chase Freedom, Freedom Unlimited, Freedom Student, and Slate cardmembers will receive complimentary DashPass for the first three months, followed by a 50% discounted price at the current rate for nine months after that. 
"We are excited to partner nationwide with Chase and add our subscription service DashPass to their renowned list of credit card benefits, while growing our industry-leading subscriber base," said Keith Yandell, DoorDash's chief business & legal officer, in a statement. "This partnership will make ordering from our unmatched selection of restaurants even more rewarding and provide Chase customers with access to incredible deals they can only find on DoorDash."
This is all to say that you, Chase card holder, are going to have to the order food and Venmo request your loser American Express friends every single time you're hanging out. At least make sure they call you Daddy DoorDash.
Sign up here for our daily Thrillist email and subscribe here for our YouTube channel to get your fix of the best in food/drink/fun.