Cheesecake Factory Is Offering Free Slices of Hershey's & Reese's Cheesecake This Week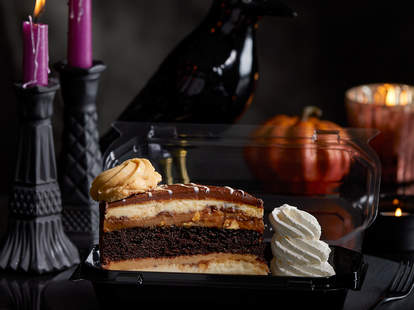 Now that your days of trick-or-treating are distant memories, you at least get to enjoy Halloween in decidedly better ways. For instance, eating free cheesecake from The Cheesecake Factory. The chain is partnering with our pals at DoorDash for a helluva Halloween treat: a free slice of Reese's Peanut Butter Chocolate Cake Cheesecake or Hershey's Chocolate Bar Cheesecake. Tricks not included.
They're not skimping you with a single-day offer either. Beginning Monday, October 28, and through Thursday, October 31, you can score the freebie when ordering $30 or more from The Cheesecake Factory via DoorDash. Which, c'mon guys, shouldn't be too hard. One minute I'm craving that Crusted Chicken Romano and the next, I've spent my entire month's grocery budget on appetizers (and that brown bread). Easy.
All you need is the promo code, "TREATORTREAT," according to a press release. The deal applies to both delivery and pickup orders.
But because this is a holiday that revolves entirely around eating (then again, doesn't every holiday?), we've got more free food coming up. Taco Bell is giving away Nacho Cheese Doritos Locos Tacos on Wednesday, October 30, to anyone that stops by.
Now go forth and eat your weight in cheesecake.
Sign up here for our daily Thrillist email and subscribe here for our YouTube channel to get your fix of the best in food/drink/fun.
Megan Schaltegger is a staff writer at Thrillist. Follow her @MegSchaltegger.