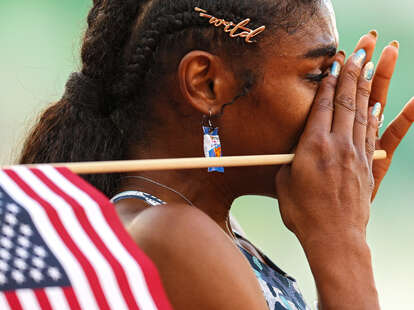 PATRICK SMITH/GETTY IMAGES
ICYMI, track star Christina Clemons didn't just qualify for the Olympics after an impressive show in the 100-meter hurdles. She did so while sporting the ultimate accessory: A pair of Cool Ranch Doritos earrings. After repping the brand in the qualifiers and reaching out on Twitter right after, the chip maker came through.
Clemons is now on an actual bag of Doritos. To commemorate the soon-to-be Olympic athlete's big win, Doritos sent over a custom bag of Cool Ranch with that post-race photo of her in the iconic earrings. "For those who keep it cool even when running for their dreams," the company wrote on the bag.
"Just call me Cool Ranch Clemons thank you @Doritos, this is amazing!" Clemons tweeted, alongside several shots of the custom bag.
Though Clemons' accessory of choice has created quite the buzz following her win, the purchase was actually a last-minute buy—on the very eve of her Olympic qualifying race.
"When I bought them, I didn't think it would be a big thing at all," Clemons told Yahoo Sports. "I was like, 'Oh, these are so cute.' I love Doritos and they matched my uniform, so I decided to wear them in the final."
By the next morning, the earrings had caused quite a stir on social media and before Clemons knew it Doritos told her to slide into their DMs. Clearly, it worked. On Monday, Clemons—or "Cool Ranch Clemons" as the chip maker has branded her—is now officially a Doritos partner too. Both Christina and Doritos announced the news to social media.
"Christina 'Cool Ranch' Clemons had such a good ring to it we had to make it official," the company wrote on Instagram. "Welcome the newest Doritos partner."
Megan Schaltegger is a staff writer at Thrillist.