DoubleTree Revealed Its Signature Cookie Recipe, and These Aren't Grandma's Ingredients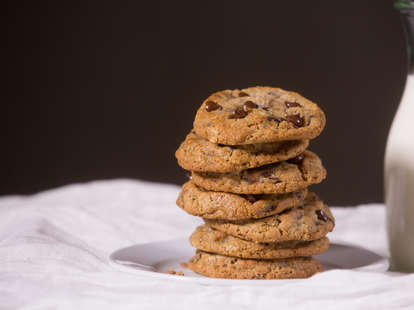 A boy becomes a man the day he finally accepts that DoubleTree's chocolate chip cookies are tastier than his grandmother's. And now he can come to this psyche-altering realization in the privacy of his own home, because the international hotel chain has released its signature recipe to the public.
"We know this is an anxious time for everyone," DoubleTree Senior VP and global head Shawn McAteer said in a statement on April 9. "A warm chocolate chip cookie can't solve everything, but it can bring a moment of comfort and happiness."
DoubleTree's chocolate chip cookie is so dearly loved across the world that one of its hotels in Thailand launched a cookie-themed suite laden with cookie decor, cookie-scented candles and body scrub, cookie-themed bathrobes, cookie pillows, and other spectacularly gluttonous amenities. But now The People can fill their own homes with these... lemon juiced confections?
The official bake-at-home ingredients are not your grandmother's recipe. Aside from the sugar and flour and baking soda, the recipe requires you to add cinnamon, squeeze a little bitta lemon juice, and mix in half a cup of texture-amplifying oats. Here are the ingredients:
DoubleTree Chocolate Chip Cookie Recipe (makes 26 cookies)
½ pound butter, softened (2 sticks)
¾ cup + 1 tablespoon granulated sugar
¾ cup packed light brown sugar
2 large eggs
1 ¼ teaspoons vanilla extract
¼ teaspoon freshly squeezed lemon juice
2 ¼ cups flour
½ cup rolled oats
1 teaspoon baking soda
1 teaspoon salt
Pinch cinnamon
2 ⅔ cups Nestle Tollhouse semi-sweet chips chocolate chips
1 ¾ cups chopped walnuts
The full instructions are posted to along with DoubleTree's press release, and the rest is pretty standard. Mix everything together, bake the cookies at 300 degrees for 20ish minutes, set them out to cool, call your grandmother, apologize for loyalties lost, mourn your childhood for a sec, and then delight in DoubleTrees' superior ingenuity.
Sign up here for our daily Thrillist email and subscribe here for our YouTube channel to get your fix of the best in food/drink/fun.