The Doughnut Project Is Giving Out Free Port-Flavored Doughnuts on Friday
It's (un)scientifically proven that starting the day with a boozy doughnut leads to happiness, higher productivity, and long-lasting apathy toward vegetables. So, the collaboration between Fonseca Port and the breakfast demigods at New York's The Doughnut Project is pretty much a replacement for going to the gym.
Even though almost none of that is true, these doughnuts look delicious. The limited run of Fonseca Bin 27 Port Doughnuts will be available at The Doughnut Project's Manhattan storefront December 15 through December 17. They're made with a Fonseca Bin 27 Port compote, topped with a sweet port glaze, and sprinkled with chocolate dust. 
The Doughnut Project has danced with booze-themed doughnuts a number of times, from Prosecco doughnuts to a month-long cocktail series.
Port-lovers might not be used to rolling out of bed so early in the morning. They may be more likely to spend the morning ingesting aspirin and having a cold shower. But on December 15, you'll want to roll out bed as soon as you can. That's because the first 50 people through the door when the shop opens at 8am are getting a free doughnut. That's worth getting up for. (And if you need more circular sugar bread, Krispy Kreme has a buy-one-get-one deal on a box of doughnuts that day as well.)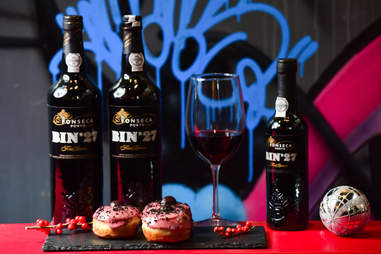 Max Flatow/Fonseca Port
Sign up here for our daily Thrillist email, and get your fix of the best in food/drink/fun.
Dustin Nelson is a News Writer with Thrillist. He holds a Guinness World Record but has never met the fingernail lady. Follow him @dlukenelson.