The aurora borealis is a quintessential item on travel bucket lists. (The northern lights will be visible over parts of the United States the night of February 27!) Seeing the lights is great, and it's something otherworldly if you manage to see it with well-defined ribbons of color crackling through the sky. However, a pair of photographers captured something even more stunning when they saw the aurora in Iceland. 
Photographers Jingyi Zhang and Wang Zheng witnessed the aurora take the shape of mythological beasts. The first photo, shared by NASA's "Astronomy Picture of the Day," looks like Viserion post-that moment in Game of Thrones. Splayed out across the sky, the northern lights took the shape of a dragon in Zhang's picture. 
Recommended Video
Art of the Meal: Chloe Rose Makes Super Mario Bros Art With Hot Sauces
NASA noted that the image was surprising for more reasons than its unexpected shape. "No sunspots have appeared on the Sun so far in February," the agency writes, "making the multiple days of picturesque auroral activity this month somewhat surprising." 
Also pictured with the "Dragon Aurora" is Zhang's mother, who appears to be staring up at the sky with an entirely justifiable amount of awe.
In another photo captured that same night, Zheng caught the aurora looking like a mythological bird. "Interestingly," Zhang told Live Science, "my partner photographed a phoenix at the same time."
Iceland is where most of the wintery scenes from Game of Thrones were shot, but this is pretty on the nose, aurora.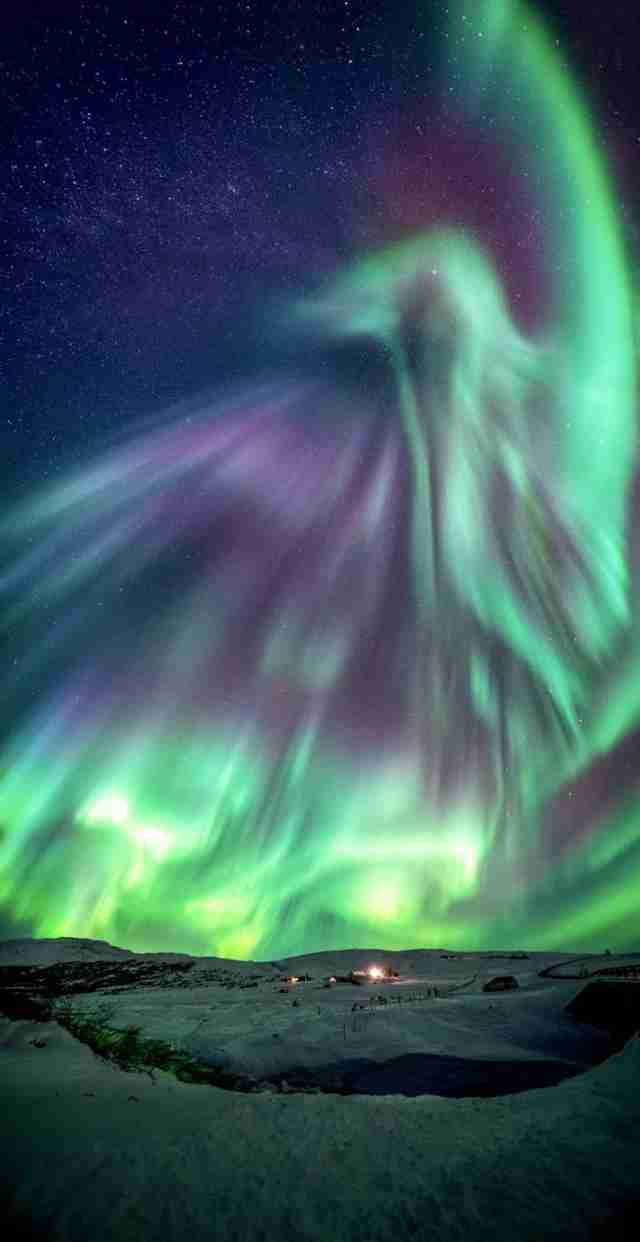 Sign up here for our daily Thrillist email and subscribe here for our YouTube channel to get your fix of the best in food/drink/fun.