Dream Job Alert: Travel the Country as Moe's Chief Taco Officer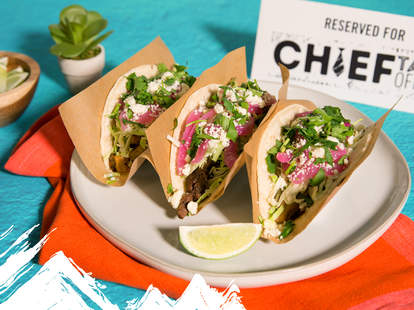 Courtesy of Moe's Southwest Grill
You no longer have to be a tortilla-loving police officer to be called chief taco officer. Moe's Southwest Grill is offering you the chance to earn the title for yourself.
The fast-casual Mexican chain that claims to have better queso than the other guys is hiring a Chief Taco Officer (CTO). Taco enthusiasts can apply through April 20 (ahem) to be a short-term ambassador whose main task is introducing people to Moe's new Three Amigos tacos. 
The newly minted CTO will get to travel the US on a Moe's food truck for what it's calling the Taco Tour. On the chorizo choo-choo, you'll dole out free Three Amigos tacos across the country. Pretty simple duties for a boss business card.
The pay is $1,000 for two weeks and comes with other perks like unlimited tacos on the tour, a trip to the Moe's Test Kitchen, travel arrangements (flight, hotel, food), and a CTO uniform. Though, it's not clear what that last one means. That could be a bad thing.
To enter, sign up for the Moe's app then go on Facebook, Instagram or Twitter and let them know why you deserve the gig with the hashtag #MoesCTOContest. You can enter one time on each platform. Moe's will then pick three finalists and put those finalists up for a public vote. The Taco Tour starts June 1 in Atlanta.
Sign up here for our daily Thrillist email, and get your fix of the best in food/drink/fun.
Dustin Nelson is a News Writer with Thrillist. He holds a Guinness World Record but has never met the fingernail lady. Follow him @dlukenelson.