You Can Get Paid $18,000 To Travel the World and Party in 2020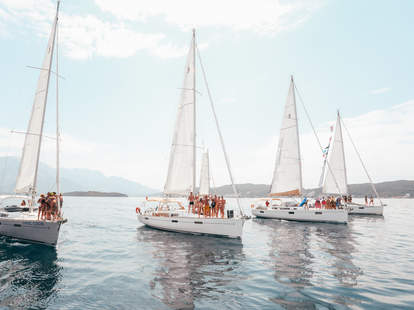 Courtesy of The Yacht Week
If you've felt jealousy pangs hearing about some long lost friend's trek around the world, there's still hope. You don't need to bitterly sip beer in the backyard wondering why they're off living it up while you're thinking about turning in early because you've got to go to work in the morning. A year of travel may be tough to pull off, but a job from The Yacht Week and The Ski Week could be your ticket to non-stop travel in 2020. 
The company is looking to hire two people for the bulk of 2020. They will take photos and videos for the tour company as well as run the ship on its social media channels. For your troubles, you'll be paid £15,000 (about $18,450) for being on contract from February through September. You'll also have all of your expenses covered, including lodging, airfare, and food.
The Yacht Week is a travel company where guests book a seven-day floating festival that includes sailing, parties, and trips to desirable coastal locales. The Ski Week is the same, but for, you know, skiing. The travel company says "you don't have to be an experienced content creator" to land the job. Part of the gig will include a photography masterclass, mentors, and an optional digital marketing course, for which you'd get a full scholarship.
It's not a huge amount of pay for eight months of work, but factoring in travel and food expenses (especially because you probably love to travel if you're applying), it's not bad. The travel will include three weeks working with The Ski Week spending one week each in Canada, Austria, and Aspen. Then you'll be rolling with The Yacht Week for nine weeks, including trips to Greece, Montenegro, Croatia, and the British Virgin Islands. There are also two other events in Europe that you'd work during your tenure with the company.
You can apply through November 1 as long as you're at least 21 and have a valid passport. The application includes creating a personal video, a "skills-based task," and sharing something on social media that shows your skill. This time next year, you could be the person people are thinking about when they're wondering why they haven't been able to travel the world.
Sign up here for our daily Thrillist email and subscribe here for our YouTube channel to get your fix of the best in food/drink/fun.