How to Get Paid $10,000 to Take Photos of Amazing Food
Yelp is hiring its first-ever chief food photographer.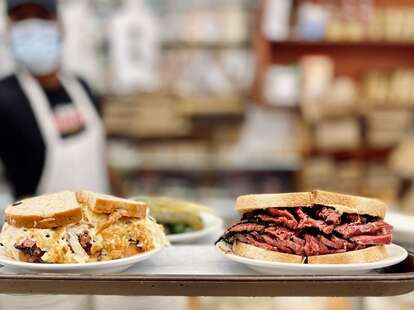 Photo by Paul A., courtesy of Yelp
Photo by Paul A., courtesy of Yelp
Social media foodies, this is your time to shine. Yelp is hiring its first-ever official chief food photographer.
The platform is awarding one winning job candidate $10,000 to hop on a US tour and snap pics of the most delicious dishes from local restaurants across the country while sharing their favorite ones along their journey.
Before you ask, the answer is no—you won't need to be a professional photographer to do the job! Yelp is looking for someone whose skills really shine through phone photography, which makes for the best social media posts. The chosen candidate will have to visit two restaurants a month and create two blog posts in addition to taking great pics and videos to post on Yelp's social media account.
If you're worried about not having the right skills, Yelp Trend Expert Tara Lewis shared some tips you might need to practice before applying with Thrillist. As Lewis points out, the lighting plays a huge deal in a pic, and you always want to choose natural light over artificial light when possible.
However, that doesn't really matter unless your lenses are clean! "Before you get started, make sure to clean your camera lens for sharp, high quality photos," she advises. "You don't need any special tools for the job and a clean, lint-free cloth should do the trick."
Before you head over to the next restaurant and start snapping pics, it's important to take other people into consideration, too. "Always be mindful of your server and other customers before taking photos," Lewis pointed out. "While your server would never want you to miss the most memorable moments in food presentation, first ensure that you've given them the attention, space and courtesy to serve without disruption."
The requirements for the gig are simple. Applicants will be judged based on their love for local restaurants, their social media prowess, and the quality of their photography. If you wish to apply, you'll have to submit one entry of up to 10 unique photos of food or restaurants that you have added to Yelp pages. Additionally, you'll be required to submit a 30-60 second video where you explain why you're the ideal qualified candidate for the role.
You have until October 7, 2023 to apply for the job, and you can do so right here. The winning candidate will be selected on or about October 31.