You Can Try Dunkin's New Meat-Less Beyond Sausage Breakfast Sandwich for Free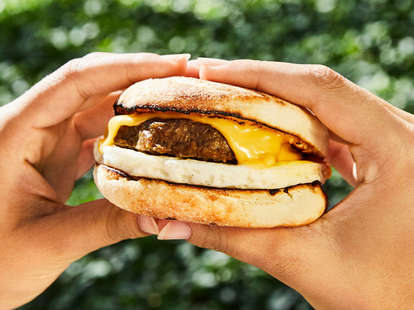 Courtesy of Dunkin' Donuts
There's nothing quite like a sausage, egg, and cheese to cure a hangover. But what about those who are vegetarians, but still suffering from a debilitating headache thanks to excessive alcohol consumption? Enter the Beyond Sausage Sandwich from Dunkin'. The chain announced Monday it's launching the new plant-based meat sandwich nationwide -- and you can try it for free.
The Beyond Sausage Sandwich made its grand debut back in July, and was exclusively sold in Manhattan. But hangovers aren't exclusive to New York City, which is why it's exciting that the sandwich will be available at Dunkin' locations across the country -- to cure everyone, vegetarian and not, of their migraines. Hangovers are the great equalizer.
"We are extremely proud of our partnership with Beyond Meat and thrilled to be the first U.S. quick service restaurant to offer Beyond Breakfast Sausage nationwide. Dunkin' is the brand that democratizes trends for America, and this latest addition to our menu gives consumers more choice to meet their evolving needs," Dave Hoffmann, Dunkin' Brands' CEO, said in a press release.
The sandwich is composed of a Beyond Meat plant-based sausage patty, seasoned specifically for Dunkin'. The "sausage" is then surrounded by an egg and a single slice of American cheese atop an English muffin. Though the sandwich isn't vegan (yet), it's still a tangible breakfast option for those looking to lessen their meat intake.
"We're excited to introduce the Beyond Sausage Sandwich nationwide and in doing so, offer an option with fewer calories, less total fat, saturated fat, cholesterol and sodium, while delivering more protein and iron than a comparable pork sausage sandwich," said Ethan Brown, Beyond Meat Founder and CEO, in a press release. "We are excited that everyone who runs on Dunkin' now has the option to make a delicious plant-based sausage sandwich part of their day."
In addition to a nationwide rollout, Dunkin' Donuts is giving you a chance to try the Beyond Sausage Sandwich for free. From November 8 to November 9, participating Dunkin' restaurants will be giving out complimentary samples of the Beyond Sausage Sandwich while supplies last, so there's no better time to try the vegetarian-friendly "sausage." You definitely won't need to be a vegetarian to enjoy it.
Sign up here for our daily Thrillist email and subscribe here for our YouTube channel to get your fix of the best in food/drink/fun.
Kat Thompson is a staff writer at Thrillist. Follow her on Twitter @katthompsonn.