Dunkin' Is Giving Away Its New Beyond Sausage Sandwich on Friday & Saturday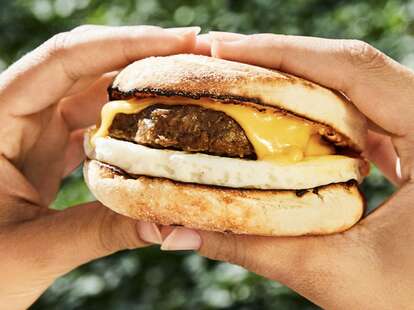 You'd be hard-pressed to find a fast-food chain that hasn't tried slinging some version of plant-based Beyond or Impossible meat at this point. McDonald's has tested out a plant-based option, and Arby's says the ol' meat mountain simply isn't going to participate. Otherwise, damn near every chain has given it a go. However, that doesn't mean that everyone has had a chance to it yet.
Dunkin' has rolled out its new Beyond Sausage Sandwich nationally, featuring Beyond Meat's sausage made entirely with plant-based ingredients. The breakfast and coffee chain thinks you're going to like it. In fact, it's so confident that it's offering a free one for two days this weekend. On Friday, November 8, and Saturday, November 9, you can get a free sample of the Beyond Sausage Sandwich from 8-10am, according to the chain.
The new item was recently expanded nationally after running as a test item in select locations, making it the first quick-service brand in the US to offer Beyond's new "sausage." However, the sandwich is definitely not vegan. It comes with egg and American cheese on an English muffin. Nonetheless, Dunkin' said it has 29% less total fat, 33% less saturated fat, and fewer calories, cholesterol, and sodium than the usual sausage, egg, and cheese sandwich at Dunkin'.
If you can't get there in the morning, you can get in on Dunkin's answer to Starbucks' occasional Happy Hour BOGO deals. Every day through December 31, you can get a medium-sized latte, cappuccino, or Americano for two bucks from 2-6pm. If you do that instead of breakfast, you'll also be spared having to endure loads of "beyond" puns. You can thank us later.
Sign up here for our daily Thrillist email and subscribe here for our YouTube channel to get your fix of the best in food/drink/fun.