Dunkin' Just Announced 2 Caffeinated Cereals & They're Hitting Shelves Soon
Cocoa Puffs, but make it coffee.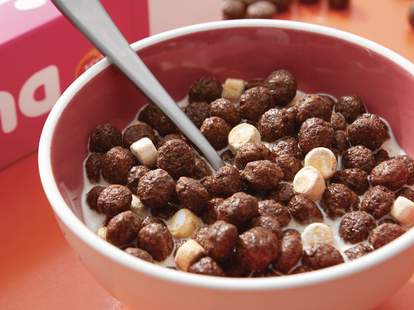 German chemist Friedlieb Ferdinand Runge, who first identified the chemical "caffeine" in 1819, is most certainly rolling in his grave after reading the press release announcing Dunkin's new caffeinated cereal.
The flavors will be inspired by two popular chain beverages, the caramel macchiato and mocha latte, and should be available on shelves starting in August, according to the company.
Yes, what was once a cherished mystery ingredient and subject of fascination for artists like Johann Wolfgang von Goethe will now be labeled plainly and proliferated in colorful cereal aisles, thanks to a recent collaboration with coffee/donut chain Dunkin' and Post Consumer Brands, an American consumer cereal manufacturer.
Courtesy of Dunkin
The caramel macchiato cereal has crunchy pieces and caramel-swirled marshmallows, and the mocha latte is similar, but with a hint of chocolate and latte-swirled marshmallows.
"The Post Cereals team has done an excellent job of paying homage to the caramel macchiato and mocha latte with these new cereals. We can't wait to see how customers enjoy them," said Brian Gilbert, vice president of retail business development at Dunkin', in the release.
I'm not saying there's anything wrong with coffee going into cereal -- I just think America is maybe getting a little out of hand with the jitters here. Dunkin' already created a coffee beer with Harpoon, for example, and PBR just widely released a hard coffee a few days ago. Thankfully, the new caramel macchiato and mocha latte cereals contain roughly a 10th of a cup of coffee, according to the release, so you'll likely get out of the house in the morning alive.
Sign up here for our daily Thrillist email and subscribe here for our YouTube channel to get your fix of the best in food/drink/fun.
Ruby Anderson is a News Writer at Thrillist. Send your tips to randerson@thrillist.com.