Dunkin' Is Unleashing Croissant Stuffers Filled With All Your Favorite Breakfast Fixings
The only way to improve a croissant.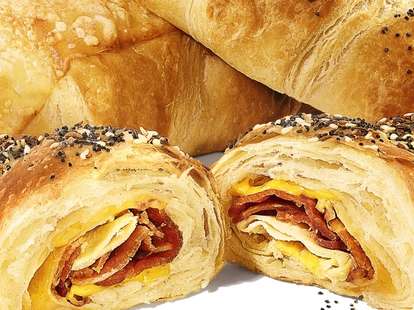 Breakfast is the most important meal of the day. And while to some that might mean starting your morning with whatever fruits or veggies you've got stored in the fridge, my interpretation's a little different. And it involves whatever new breakfast carb Dunkin's got on the menu. Cue: the chain's brand-new croissant stuffers.
As the name so clearly suggests, the addition is a croissant that is stuffed with ingredients. But that's where things get interesting. Dunkin' is serving up two varieties: three cheese and chicken, bacon & cheese. The first croissant is filled with mozzarella and cheddar then topped with swiss cheese, while the latter includes those aforementioned ingredients inside and an everything seasoning on top.
Now if your sweet tooth is steering you away from something savory, you can always go the donut route. Especially now that Dunkin' has extended its Friday freebies. ICYMI, the chain has been giving away free donuts to DD rewards members with every drink purchase. And although the deal was originally set to expire, it's been extended through May
Additionally, DD perks members can score an $2 iced coffees every Monday in May. And if that weren't enough to warrant a purchase, one of its "most-requested coffee flavors" is finally returning: butter pecan. Signing up is simple enough, too. Just head over to the site and start collecting. You'll earn 5 points for every $1 spent and once you've hit the 200 point mark, you get a free beverage.
Sign up here for our daily Thrillist email and subscribe here for our YouTube channel to get your fix of the best in food/drink/fun.
Megan Schaltegger is a staff writer at Thrillist.