Dunkin' Is Bringing Back Its Popular Collaborative Beer With Harpoon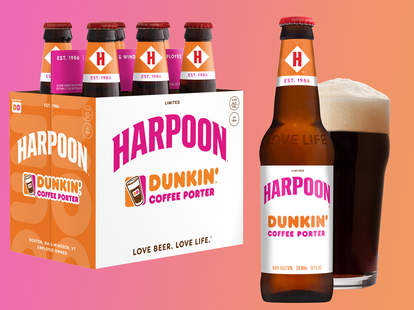 Courtesy of Dunkin - Edited
There are a few surefire signs that fall is on the way. The leaves change colors. The fridge is stocked with stouts and porters. Your weird roommate is wearing underwear again.
We may have another burgeoning fall tradition underway: Harpoon Brewery and Dunkin' are bringing back their collaborative Dunkin' Coffee Porter. The limited-edition beer was first released last fall, not long after Dunkin' did its first-ever brewery collaboration with Catawba Brewing. For the second year, the espresso-heavy porter will hit shelves in the 25 states where the employee-owned Harpoon is regularly distributed.
The collaboration with Harpoon makes a lot of sense. They're both pillars in the land of Massachusetts liquids, and the collaborations are starting to become a regular thing. Not only did they do the Dunkin' Coffee Porter last year, this summer they released the Dunkin' Summer Coffee Pale Ale.
Last year's batch even poured like a coffee, dark with a thick head reminiscent of crema sitting on top of an espresso shot. You'll be able to track it down on draft and in 12-ounce bottles this month. Despite having the familiar Dunkin' font on the label, you probably can't get away with drinking this one in the cubicle. Up to you if you want to try, though.
Sign up here for our daily Thrillist email and subscribe here for our YouTube channel to get your fix of the best in food/drink/fun.