Dunkin' Donuts' Newest Cronut Copycat Is Filled With Fudge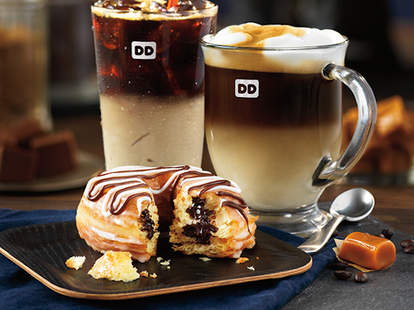 Courtesy of Dunkin' Donuts
Even though we're almost five full days into 2016 (wow, already?), it looks like the croissant-donut hybrid craze from three years ago is here to stay at least a little while longer... thanks to Dunkin' Donuts.
In an effort to get the year off to a "sweet start," the fluffy sugar ring purveyor has launched the all-new Fudge Croissant Donut, available now and for a limited time at participating stores. The new donut appears to be a chocolatey spin on Dunkin's original Cronut-inspired croissant-donut hybrid from late 2014, with a press release describing it as "combining the brand's famous glazed croissant donut with a decadent fudge filling, topped with chocolate and white icing drizzle." While it's certainly not a real Cronut, it still sounds pretty great.
To help wash down the flakey-fluffy-chocolatey treat, Dunkin' also unveiled a new Caramel Macchiato made with steamed milk, caramel flavoring, and espresso, according to the release. And for those who run on more than just the sweet stuff, the company has brought back the popular Chicken Apple Sausage Breakfast Sandwich, but like the other offerings, only for a limited time.
So, if you just realized that you've somehow gone this long into 2016 without eating a single donut, well, you know what to do.
Sign up here for our daily Thrillist email, and get your fix of the best in food/drink/fun.
Tony Merevick is Cities News Editor at Thrillist and has somehow made it almost five whole days into 2016 without eating a donut. Send news tips to news@thrillist.com and follow him on Twitter @tonymerevick.