Dunkin' Is Finally Getting Rid of Styrofoam Cups & People Have Mixed Feelings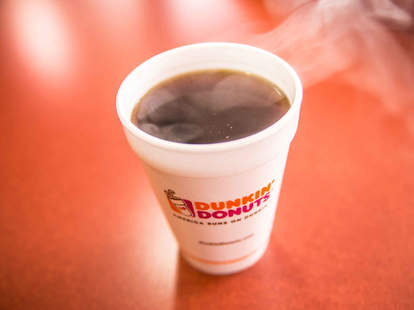 There's been a slow disappearance of Dunkin's instantly recognizable white styrofoam cup. Bans on the use of styrofoam cups have been taking place for quite a while. New York City first tried to implement a ban of single-use polystyrene containers as far back as 2015. Now, Dunkin' is ready to make the long-overdue move away from its styrofoam cups itself.
The phaseout has begun at New England locations, WFXT reports. The move will get rid of styrofoam cups and end the practice of double cupping, which involves putting a plastic cup inside a styrofoam cup for iced drinks. 
The complete elimination of polystyrene cups was announced by the chain in early 2018, with a pledge to stop using them by 2020. At that time, the company had already started introducing double-walled paper cups, particularly in international stores. The transition is expected to be completed by April 2020, per CNN, which reports that the new cups have been certified to the Sustainable Forestry Initiative Standard. 
However, this is just a baby step in the right direction environmentally. The new double-walled cups are lined with plastic on the inside to keep coffee warm and hands from being burned. The report says the "cups are mostly, but not totally recyclable." Dunkin' will leave how much of the cup can be recycled to the discretion of local and state recycling programs.
It won't be a quiet transition. Dunkin' employees will be wearing pins, and there will ad campaigns around the change because some peoplearen'thappy about losing that familiar styrofoam cup. The company wants to ease the transition for those creatures of habit that are unhappy about the cup going the way of the dodo.
"We do expect this change to be hard for some," Dunkin' spokesperson Kelly Katapodis told Boston.com. Change is never easy. Our thoughts are with Dunkin' addicts at this difficult time.
Sign up here for our daily Thrillist email and subscribe here for our YouTube channel to get your fix of the best in food/drink/fun.