Dunkin' Has Free Delivery & $3 Off Orders on Grubhub Right Now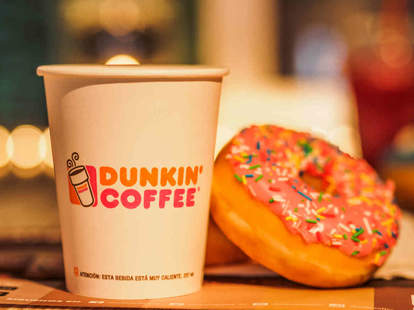 Work from home means you've been sporting the same pajamas since last week and haven't ventured much beyond your living room, but that doesn't mean Monday isn't hitting hard. Social distancing is necessary, but it can also be stressful. So you don't just need coffee, you need a lot of it. 
Like many other chains, Dunkin' has temporarily taken dining in its locations off the table, but you can still get your go-to coffee and donuts delivered -- and delivered for free -- thanks to Grubhub, the companies announced on Monday. Dunkin' said it's slashing delivery fees and even taking $3 off orders in Boston, Chicago, Los Angeles, New York, Philadelphia, Washington, DC, and surrounding areas if you order from now through April 6. 
Bummed your city isn't in the an available delivery zone? You can still snag your faves from the drive-thru or carry-out. And according to the company's official statement, Dunkin' is looking to expand delivery to additional markets in the coming months.
Earlier this month, Grubhub started offering no-contact delivery options due to coronavirus concerns. A spokesperson for the company provided the following statement to Thrillist: 
"This is obviously a complex and fast-moving situation. We are focused on prioritizing the health and safety of our drivers, diners, restaurant partners and employees during this challenging time. We will continue to monitor the situation closely, including assessing and analyzing the potential impact on our business."
Sign up here for our daily Thrillist email and subscribe here for our YouTube channel to get your fix of the best in food/drink/fun.
Megan Schaltegger is a staff writer at Thrillist.