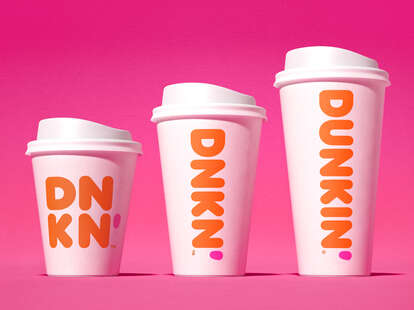 Dunkin' has somewhat of a cult fanbase, with everyone from Ben Affleck to yours truly having a go-to order. For many, that order includes a Hazelnut Swirl in their coffees. But according to Mashed, some Redditors are posting that the flavor will be removed from the menu sometime in Spring 2022. According to an image posted in the thread, the Hazelnut Swirl (not the Hazelnut shot) may be slated to be permanently removed from the menu.
A commenter on the thread who identified themselves as an employee at one Dunkin' store backed the claim up by writing "Yup... my manager made it official today. Hazelnut has been discontinued, whatever we currently have in-store is the last we have. It is such a popular flavor, I don't understand why they would discontinue it."
It definitely is a popular flavor and often included in rankings of Dunkin's best drinks.
Thrillist reached out to Dunkin' for comment but has yet to hear back.
In the meantime, you can field-test this theory on your own, by heading to your local Dunkin' and asking for the swirl.