Dunkin' Is Making an Oatmilk Latte, and Some of Y'all Can Try it for Free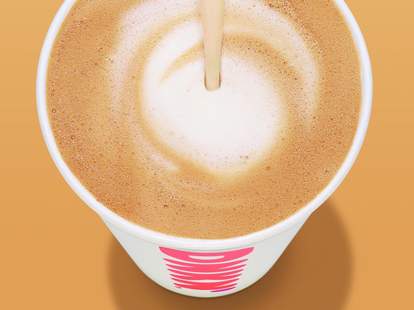 Oatmilk menu items, like the laws of physics, are inevitable. What goes up in consumer demand must come down on Dunkin's menu, so long as it belongs in a drink. That's why we're not surprised to hear that Dunkin's Oatmilk Latte is debuting nationwide this spring. We are, however, thrilled to inform you that some of y'all can already try it.
As of January 1, Californians and travelers passing by participating locations can get a free sample of the Oatmilk Latte every Friday in January, from 8-10am. The new drink, made from handcrafted espresso and oatmilk, will not be the only item with an oatmilk option -- you can order the creamy dairy replacement in Dunkin's hot and iced coffee, Cold Brew and frozen beverages. You might even be able to order a cup of oatmilk to improve your extraterrestrial communications.
Nowadays meat and dairy alternatives are collapsing our wallets and dominating the movement of our conscious experience with greater force than gravity itself. Take Dunkin's new Beyond Meat breakfast sandwich, for example, with a flavor so compelling and magnetic that it carries the moon in orbit around our planet singlehandedly. Step aside Isaac Newton, we're getting our cosmic consumerism on. 
Sign up here for our daily Thrillist email and subscribe here for our YouTube channel to get your fix of the best in food/drink/fun.