Dunkin's New Holiday Merch Collection Includes a Dunkin'-Branded Electric Guitar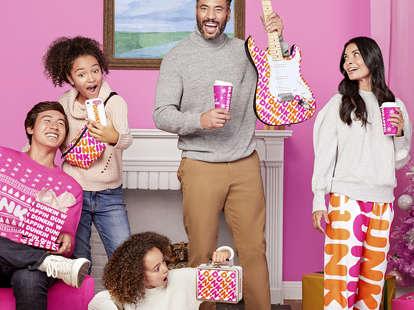 When I was 8 years-old, I begged my parents for the same cobalt blue electric guitar Lindsay Lohan played in Freaky Friday. Never mind that I was in third grade and couldn't play a single chord. I needed it. And while I thought I had long since outgrown the phase, now I'm not so sure.
Dunkin' just unveiled an entire merch shop, and yes, there's an electric guitar calling my name. The online pop-up, which debuted November 14 in partnership with creative company Jones Knowles Ritchie, includes several Dunkin'-themed items: holiday sweaters, pajamas, hats, gloves, lunch boxes, fanny packs, and more. There's even a peppermint-scent gift paper, because it wouldn't be right to wrap 'em any other way. Of course, I've got my eyes on the prize, though: that Dunkin' Jammin' Electric Guitar.
"It's time to do some shreddin' and get that rockin' gift for yourself that you never got when you were a kid," the product description reads. "Here's your chance to put some metal under the tree this season." It's like they're speaking directly at me, no?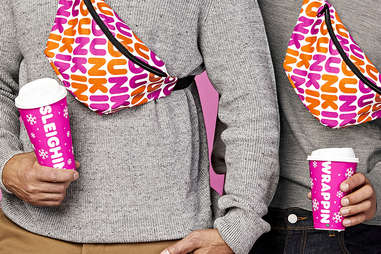 According to the site, the Jay Turser Strat has a double cutaway body, white pickguard, maple fingerboard, and maple neck, which is musician speak I'm not even going to try and translate. Sorry. Google is your friend on this one. Quick tip though: if you are planning to order it for Christmas, there's a 7-10 day shipping delay due to popularity.
Everything in the pop-up shop is available on a "while supplies last" basis, but the company promises to return with more come 2020.
h/t Delish
Sign up here for our daily Thrillist email and subscribe here for our YouTube channel to get your fix of the best in food/drink/fun.
Megan Schaltegger is a staff writer at Thrillist. Follow her @MegSchaltegger.