Dunkin' Just Debuted a Purple Sugarplum Macchiato for the Holidays
Suddenly, the Peppermint Mocha is old hat.
You might feel a certain loyalty to Starbucks' impressive holiday drink lineup—I get it, that Peppermint Mocha tastes like Santa Clause whipped up it up on the espresso machine himself. But Dunkin' is out here with a new, festive drink that just might make you stray from your go-to.
On Wednesday, the Boston-based coffee giant introduced its Sugarplum Macchiato, a seasonal espresso beverage—available either hot or iced—that features blueberry, raspberry, blackberry, and plum flavors with notes of vanilla and a "sugary finish."
"The combination of Dunkin's premium espresso, milk, and sugarplum flavor creates a whimsical, light-purple layered appearance for a beverage that is sure to start winter with a wow—and perhaps create a little festive FOMO as the highlight of holiday posts and photos," a rep for the chain told Thrillist via email.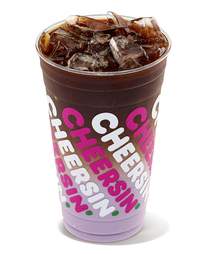 Courtesy of Dunkin'
Because it's our phones that actually eat or drink first, it should hardly come as a surprise that the Sugarplum Macchiato was already making waves on TikTok ahead of its official debut. Now Dunkin' is asking fans to document their own first tastes with a special AR lens on the app, as well as Instagram and Facebook. Use #DunkinSugarplum and toss a Snowflake Donut in the frame for some added cheer.
"Our Sugarplum Macchiato is a colorful twist on a well-known, but perhaps mysterious-tasting, flavor of holiday lore," vice president of marketing strategy Jill Nelson said in the press release. "It's the perfect complement to our fan-favorite holiday latte lineup and brings even more delicious cheer to the Dunkin' menu."
Sign up here for our daily Thrillist email and subscribe here for our YouTube channel to get your fix of the best in food/drink/fun.
Megan Schaltegger is a staff writer at Thrillist.