Easter is here and for one day a giant egg-laying rabbit will roam the Earth plopping out its pastel progeny into children's colorful baskets. It's a weird thing. 
How did a Christian holiday acquire these weird traditions when none of this nonsense is actually part of the Bible? Much of it is believed to be derived from pagan spring celebrations, though the exact origins aren't always clear.
Recommended Video
This Restaurant Reinvented the McGriddle
Where does the Easter bunny come from?
So, how did we get to a point where there are bunnies everywhere on Easter? The exact origin of the Easter bunny is lost, but many assert it's the result of a strong connection between Germanic pagan traditions and Christianity.
It's been suggested that many early Christians were thinly veiled pagans, and they continued to worship the Teutonic deity Eostre, which is kind of right there in the word Easter. Pagans celebrated the goddess of spring and fertility with a spring festival. Additionally, Eostre was closely associated with rabbits. 
However, some argue that though this story isn't impossible, there isn't much evidence to support how widespread it's become. There's actually only one mention of Eostre in historical documents. That's found in Bede the Venerable's "The Reckoning of Time," as noted by The Guardian's Adrian Bott who questions the validity of the Easter bunny's pagan origins.
Other accounts note that a rabbit's ability to get pregnant while it's already pregnant and its longstanding association with fertility created a belief that hares were hermaphroditic and capable of virgin births, per Lifehacker. It's a short route from there to being associated with the Virgin Mary and the Holy Trinity. 
Whatever its origin, the Easter Bunny is believed to have arrived in America at some point in the 1700s, according to History.com. It came with German immigrants who settled in Pennsylvania. They called the strange mammal "Osterhase" or "Oschter Haws" and put out handmade nests for the freaky rabbit to lay its multi-colored eggs.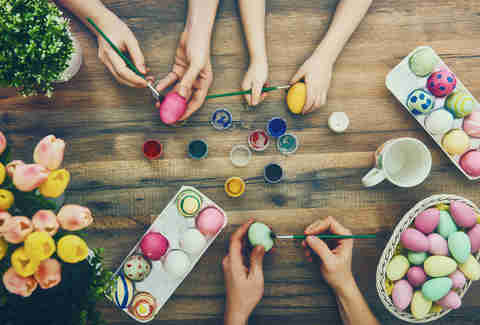 Why are Easter egg hunts a thing?
Like the bunny, there are conflicting stories of how the mighty egg became central to Easter traditions. Though the egg has long had a place of symbolic importance for religions, as this exhaustive piece at Forbes notes, Christians adopted the egg as a rather obvious symbol of rebirth and the resurrection of Jesus. 
The tradition of painting eggs may date back as far as the 13th century according to some sources. One explanation put forward by History.com is that eggs were once a forbidden food during Lent, so they would be decorated during the time of fasting, then eaten on Easter.
However, its origin in pagan celebrations has murky support. "A Ukranian folk tale about the origins of pysanky, painted eggs, was rewritten to star Eostre and her bunny," Bott writes. Pysansky are decorative Easter eggs crafted using wax-resist dyeing. 
In the US, another popular tradition with eggs is the Easter egg roll at the White House. Kids roll hard-boiled eggs around the White House lawn in a tradition kicked off by Rutherford B. Hayes in 1878. There isn't a direct religious connection with the Easter egg roll, though many cite the egg as a symbol of Jesus' tomb. Under its hard exterior, there's new life ready to burst forth. That's been stretched to say the Easter egg roll is a symbol of the rock in front of the tomb being rolled aside.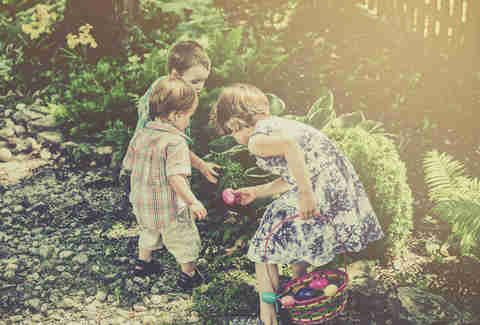 Why do we use Easter baskets?
When the "Osterhase" came to the US with German immigrants, it was accompanied by the tradition of leaving out a handmade nest for the Easter Bunny to deposit its eggs. Much like kids still do with Santa, hopeful children would leave out carrots to help the egg-laying monster keep its energy up as it hopped across the world delivering its hard-boiled spawn.
At some point, the nest turned into a basket. And, as these little evolutions go, the multi-colored eggs the rabbit laid were supplanted with chocolate, Peeps, and jelly beans. Though, even that has a historical tie. When the fast was broken long ago, celebrants would eat the eggs that had been forbidden during Lent. Now, kids wake up to a breakfast of sugar. They probably aren't at the end of a fast, but they're getting a taste of the forbidden all the same.
Why does Easter change dates every year?
Unlike Christmas or Halloween, Easter doesn't fall on a fixed date. It could occur anytime between March 22 and April 25. The reason for that gets complicated, but here's the short version. 
For Christians, the death, burial, and resurrection of Jesus happened after the Jewish holiday of Passover, which is a movable feast that takes place on the first full moon after the vernal equinox.
Prior to 325 AD, Easter's date was set to the Sunday following the first full moon after the vernal equinox. The First Council of Nicaea changed that to make things relatively easier. Now, Easter is held on the first Sunday following the Paschal Full Moon, which confusingly isn't necessarily when you see the full moon. It's an ecclesiastical full moon, based on historical tables determined at Nicaea and later revised. Thus, the Paschal Full Moon can be one to two days removed from the actual full moon. 
Sign up here for our daily Thrillist email, and get your fix of the best in food/drink/fun.