Eating 2 Breakfasts Is Better for You than Skipping Breakfast Altogether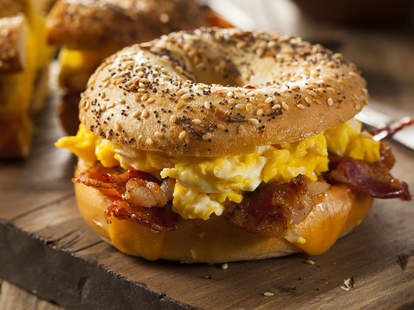 With delicious foods like bacon bagel sandwiches, cinnamon roll donuts, and breakfast lasagna, it's a damn shame if you miss out on breakfast, whether for time or cutting calories. But now, a new study suggests that people who skip breakfast are more likely to be overweight than people who eat not just one breakfast, but two breakfasts. Or, as hobbits like to call it, "second breakfast."
Researchers from Yale and the University of Connecticut examined how eating breakfast (or not) influenced the weight of 600 middle-school students through the period of fifth grade to seventh grade, but as a report by The Cut points out, the conclusions might be applicable to adults, too. Specifically, the study found that students who ate breakfast both at home and when they arrived at school had an average weight gain in line with all students, and that students who regularly ditched breakfast were twice as likely to be overweight or obese as "second breakfast" champions, per the report.
Basically, pulling a Peregrin Took and eating two breakfasts appears to be better for you than not eating breakfast at all, which could very well be cause for celebration via a stack of blueberry pancakes. While the study doesn't explain why breakfast might have this effect, researchers believe people who skip breakfast end up eating more food later. Ya know, because they're so hungry. Another explanation for the results might be that overweight people abstain from eating breakfast in hopes of losing weight, according to a report by The Washington Post.
The bottom line: Breakfast is delicious, important, and good for you. But having a second breakfast might be even better. So might we suggest... third breakfast?
Sign up here for our daily Thrillist email, and get your fix of the best in food/drink/fun.
Tony Merevick is Cities News Editor at Thrillist and loves breakfast, but needs to put more effort into actually eating breakfast. Send news tips to news@thrillist.com and follow him on Twitter @tonymerevick.