Watch the Eclipse From a Tent at This All-Inclusive Pop-Up Camp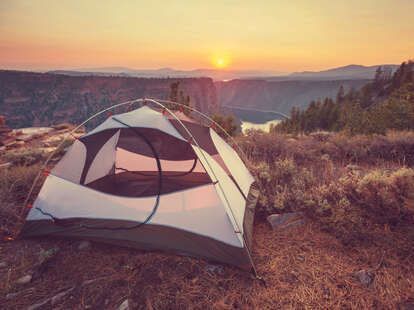 You might have heard, a total solar eclipse is coming to the United States, and it's the first one in 99 years. While you might see a partial eclipse in places across the United States, most people will have to travel to see the full show. However, in some of the best viewing locations reservations were made over a year in advance and hotels have reportedly jacked up rates, making it tough to find a place to rest your weary head.
One option you might not have considered is camping. Even better, thanks to Casper mattresses, you can do some eclipse camping in style. Casper is headed to Casper, Wyoming to set up a camp fittingly called Camp Casper. The city is in the middle of the Line of Totality and will have one of the longer periods of darkness in the US. In fact, it's such a good spot to watch the eclipse that there's a festival, the Astronomical League is holding their annual conference, and it's on the Thrillist list of best places to watch the eclipse.
Beginning August 20, Camp Casper will be an all-inclusive eclipse viewing experience. While the $499 price tag isn't cheap, it includes a lot of bells and whistles so all you have to worry about is putting on your glasses. You do have to cover airfare, but the camp has free roundtrip shuttles between Denver and Casper.
Once you're there, each camp site will have a Casper mattress, sheets, and pillows with a safari-style canvas tent from Under Canvas. The company is also covering entertainment. Beyond the once-in-a-century show in the sky, Alamo Drafthouse is hosting a movie screening, and there will be flashlight tag and yoga hosted by Outdoor Voices.
Plus, meals, eclipse glasses, and a "spacey soundtrack" from a live DJ during the eclipse are all included. It's a tidy little package, especially if you waited too long to book your travel. The camp appears to be sold out at times, but tickets are refreshing on a rolling basis. So, it's worth checking back if you'd like to get to the middle of nowhere for a once-in-a-lifetime event.
Sign up here for our daily Thrillist email, and get your fix of the best in food/drink/fun.
Dustin Nelson is a News Writer with Thrillist. He holds a Guinness World Record but has never met the fingernail lady. Follow him @dlukenelson.