The Eclipse Traffic Nightmare Has Already Started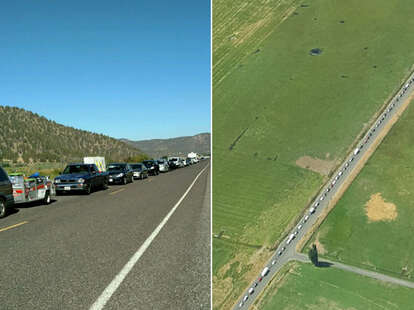 Oregon Police Department
Oregon Police Department
Though the Great American Eclipse won't take place until August 21, Eclipse chasers are already beginning to descend on small towns along the line of totality. Many towns along totality will have their population more than double overnight, and the fears about unmanageable traffic began to manifest Thursday.
Festivalgoers heading to the Big Summit Prairie Eclipse Festival and Symbiosis Gathering, a massive festival scheduled to coincide with the eclipse near Oregon's Ochoco National Forest, caused a backup of 20-30 miles, Oregon DOT spokesman Dave Thompson confirmed to Time. Other reports indicate that the standstill ran from Big Summit Prairie to Prineville, a stretch of 39 miles.
The DOT says the standstill lasted a few hours, which must have felt like a lot longer to anxious concertgoers who tweeted that lines were lasting up to 12 hours.
The Prineville Police Department had to reroute traffic "the back way to Big Summit," only allowing residents to drive along Highway 26 until traffic eased.
The Oregon State Police offered a couple updates, including an aerial photo of a 15-mile backup.
This is basically what every small town was trying to prepare for in advance of the eclipse. Prineville, the nearest city to the event, is a town of just under 10,000 people. The festival is expected to draw more than 30,000 attendees, and Central Oregon is expected to attract over 200,000 travelers looking to see the eclipse on Monday.
"That's exactly how this sort of thing will work leading up to the eclipse," Thompson told Time. " All of a sudden there will be a backup, and all of sudden it'll be gone."
This is just one town. Thousands upon thousands will be heading to towns like Casper, Wyoming and Columbia, South Carolina along the line of totality over the weekend. The madness has begun. Be sure to leave a little extra time on your eclipse commute.
Wanna see the solar eclipse for yourself? Check out Thrillist's state-by-state watch guides to the best viewing spots in Georgia, Idaho, Illinois, Kansas, Kentucky, Missouri, Nebraska, North Carolina, Oregon, South Carolina and Wyoming.
Sign up here for our daily Thrillist email, and get your fix of the best in food/drink/fun.
Dustin Nelson is a News Writer with Thrillist. He holds a Guinness World Record but has never met the fingernail lady. Follow him @dlukenelson.