Eggo Cereal Is Finally Back So You Can Eat a Bowl of Tiny Eggos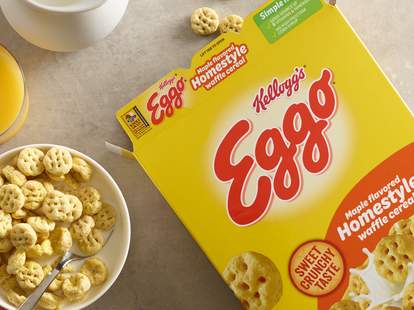 Have you ever woken up one morning and decided, like Eleven from Stranger Things, that a single Eggo for breakfast would not suffice? Not even two will satisfy you? Well, you're in luck. Thanks to a newly relaunched Eggo cereal from Kellogg's, you can reasonably stuff hundreds of tiny Eggos in your mouth with little to no judgment.
The Eggo cereal comes in two flavors: maple, for a syrupy sweet and nostalgia-inducing classic that's reminiscent of the original Eggos you grew up eating; and blueberry, which is of course flecked with blue dots to replicate a blueberry studded Eggo.
Courtesy of Kellogg's
The return of Eggo cereal can be found at Walmart beginning November 24. Each box of the sugary breakfast treat clocks in at $3.64.
It's not the only cereal that's essential a mini version of a larger thing. Hostess and Post have also recently launched Twinkies-flavored cereal, which looks like a tiny Twinkie, sans cream filling.
My suggestion? Buy both the blueberry and maple syrup version of the Eggo cereal, mix them, and call it a day. Or better yet, buy the frozen Eggo waffle, batter it with Eggo cereal, and make an Eggo-waffle-French toast hyrbid full of Eggo inception. And tell all your friends to leggo my Eggo cereal.
Sign up here for our daily Thrillist email and subscribe here for our YouTube channel to get your fix of the best in food/drink/fun.
Kat Thompson is a staff writer at Thrillist. Follow her on Twitter @katthompsonn.