Einstein Is Dropping a Queso-Filled Egg Sandwich with a Jalapeño Salsa Schmear
The sure-to-be delicious addition joins menus on September 16 ahead of National Queso Day.
Courtesy of Einstein Bros. Bagels
Breakfast is the most important meal of the day, which means you shouldn't just partake in a little early morning snack sesh. You should do it right. I can't think of a better way to accomplish that than piling a bagel with jalapeño salsa schmear and loads of queso.
Einstein Bros. Bagels has crafted the perfect heat-to-cheese ratio with its latest creation, the Bacon & Queso Egg Sandwich, a carb-heavy breakfast creation that's oozing with melted cheese, green chiles, and a spicy double-whipped schmear. It's then finished with smoked Applewood bacon and seasoned cage-free eggs on your choice of bagel.
In honor of National Queso Day, you can get your hands on the Bacon & Queso Egg Sandwich beginning September 16.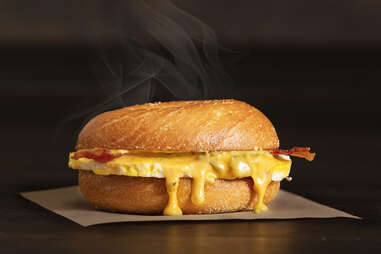 "Everyone loves queso, but until now, it has stayed off the breakfast table—for no good reason," Chad Thompson, head chef of culinary innovation, said in a press release. "Queso fans are going to love the pairing of our signature queso with a classic bacon and egg bagel sandwich, giving them plenty of options when they walk into an Einstein Bros. Bagels bakery."
Here's the real kicker, though, you can add queso to any other sandwich on the menu now. It's available as a topping for an extra 75 cents.
Megan Schaltegger is a staff writer at Thrillist.