Escaped Mexican Drug Lord El Chapo Toasts Freedom With A Cold One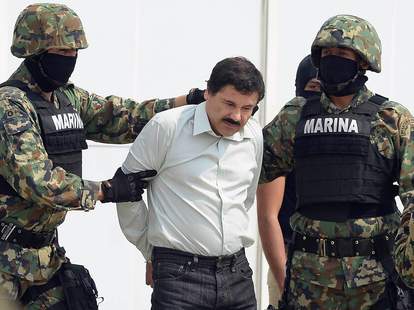 ALFREDO ESTRELLA/AFP/GETTY IMAGES
Have you heard about El Chapo?! Of course you've heard about El Chapo! Mexico's infamous drug kingpin Joaquim Guzman Loera (whose nickname, roughly translated, means "Shorty") is on the lam after busting out of one of the country's maximum-security federal prisons through a secret mile-long tunnel on Saturday evening. The head honcho of the notorious Sinaloa Cartel has escaped twice in the past 14 years, and as a former DEA agent told the Associated Press, "All the accolades that Mexico has received in their counterdrug efforts will be erased by this one event."
Well, shit.
But wait! There's more! Today, the website El Blog De Narco published two photos that they purport to be the first of El Chapo in freedom. (The website claims they received the images via a leak from one of Guzman's sons. They are still unverified, but as Gawker's Taylor Berman points out, one son may have cryptically tweeted about his father's upcoming escape, so it's feasible that they're the sort of family that likes to #humblebrag.)
In one picture, a man's face is semi-visible in a plane cockpit; in the other, he is seen holding a brown longneck bottle.
Based on grainy, inconclusive evidence, the person could be El Chapo, and the bottle could be a beer bottle. Which is enough for us to pose the question here at Thrillist HQ: what is the preferred brewski of freedom for world's most-wanted drug trafficker?
Some brown-glass guesses:
Dos Equis Amber: Currently, El Chapo is the Most Interesting Man in The World, so it sorta makes sense?
Pacifico Clara
Tecate: Made by the giant Mexican brewery behind Dos Equis & Sol, this popular canned beer north of the border is also available in a less-common longneck.
Victoria
Russian River Pliny The Elder: Maybe he's an IPA-loving beer snob! California's right there, and Guzman clearly isn't the sort of person who's daunted at the prospect of handling hard to get substances. It could happen!

What kind of beer would you request for your first swig of outlaw freedom? Personally, I'd go with a Left Hand Milk Stout Nitro, but I'm not sure how well that would keep in the hot Mexican sun.
Dave Infante is a senior writer for Thrillist and is completely fascinated by this story. Follow @dinfontay on Twitter, Instagram, and Facebook.