Elon Musk to Give Out Free Rides in His Futuristic Underground Tunnel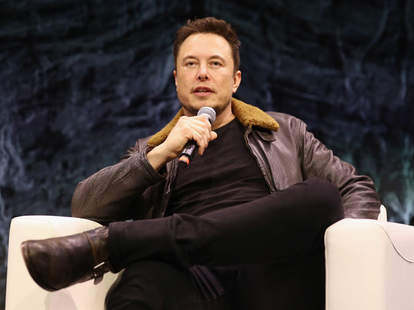 DIEGO DONAMARIA/GETTY IMAGES
Elon Musk, alien communicator and the billionaire CEO behind Space X, Tesla, and casual flamethrowers, understands that Los Angeles has a traffic problem. That's why he started the Boring Company, an enterprise dedicated to digging underground tunnels used to avoid gridlock. Musk's company has been hard at work developing Boring's first tunnel, designed to service LAX, and now, it's primed to offer free test rides to the public in Los Angeles. 
Musk posted a video to Instagram on Friday, giving a glimpse of his snaking tunnel, which will one day ferry mass transit and everyday commuter vehicles on electric pods. In it, he noted that Boring is on the cusp of opening the tunnel for free public test rides, "pending final regulatory approval." The electric pods will be whisking people around in a few months when the tunnel officially opens for test rides, Musk noted.
Musk reiterated Boring's commitment to pedestrians over cars, noting that electric pods running along the tunnel floor will primarily be used for busses. A conceptual video released last year shows what the process would look like in a world free of red tape and environmental concerns. Of course, the car used is a Tesla:
Boring company is setting its sights high. Musk tweeted on Friday that the company is already digging a tunnel between Washington DC and New York. He also mentioned another tunnel between LA and San Francisco will "hopefully" be underway next year.
While the test rides in Los Angeles will be free once available, Musk has maintained that the cost of riding through a hypothetical tunnel will be less than a bus ticket. Whether the infrastructure will be viable enough to improve LA's snarling traffic issues remains to be seen.
[h/t Engadget]
Sign up here for our daily Thrillist email and subscribe here for our YouTube channel to get your fix of the best in food/drink/fun.
 
Sam Blum is a News Staff Writer for Thrillist. He's also a martial arts and music nerd who appreciates a fine sandwich and cute dogs. Find his clips in The Guardian, Rolling Stone, The A.V. Club and Esquire. He's on Twitter @Blumnessmonster.