It's officially pumpkin beer season, which for some equates to the same sort of seasonal thrill the PSL brings, only boozier. But why stock up at your local liquor store when you can have it delivered straight to your door, and better yet, by scare actors that look like they came straight from the morgue.
In honor of Halloween, Anheuser-Busch-owned Elysian Brewing is enlisting Seattle's premiere haunted house to take over its beer runs and bring its Pumpkin Variety Pack to you. On Wednesday, October 27 and Thursday, October 28, you can schedule your "scary good delivery" from the beer maker.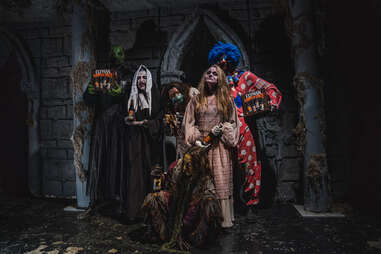 For those not in Seattle, the Pumpkin Variety Pack is available nationwide. Here's what it includes:
Night Owl: A Pumpkin Ale brewed with pumpkin puree and juice and spiced with ginger, cinnamon, nutmeg, cloves, and allspice
Punkuccino:

A Pumpkin Ale with a short shot of Stumptown coffee toddy and shake of cinnamon and nutmeg.

The Great Pumpkin:

The world's

first Imperial Pumpkin Ale with aromas of pumpkin, sugar, and spice
DarkO' The Moon:

A smooth and chocolatey Pumpkin Stout with a slight smokiness on the nose, this Pumpkin Stout pours dark as night and is brewed with fresh pumpkin and pumpkin seeds with a hint of cinnamon.
Sign-ups opened for the two-day delivery period on October 14. You've got until October 22 to reserve your beer delivery, which will be taking place Wednesday and Thursday between 5 and 9 pm PST. Be prepared to scream!
Megan Schaltegger is a staff writer at Thrillist.