This Luxury Airline Just Cut Prices on Flights to Athens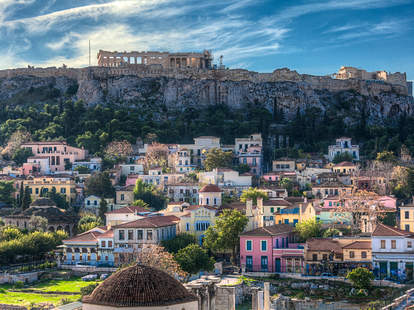 By and large, Daylight Saving Time is not a beloved tradition -- the sun comes screaming through our windows at 6:30am and goes pitch black by 5pm. But, thankfully, luxury airline Emirates is giving us a reason to celebrate the annual clock change with a special flash sale on flights to Dubai, Johannesburg, and Athens.
The Daylight Savings Fare Sale, which runs now through November 12, includes flights out of the luxe carrier's 12 US hubs: New York, Los Angeles, San Francisco, Boston, Dallas, Seattle, Houston, Chicago, Washington, DC, Orlando, and Miami. And while prices won't resemble that of Southwest or JetBlue's Halloween sales (there were $31 flights!), Emirates is bit bougier than your usual budget airline. Lest we forget the first class private suites and complimentary pajamas! 
As part of the promo, round-trip fares are as low as $519 for New York to Athens and $899 from LA to Johannesburg, Travel & Leisure reports. Business class tickets are available too, so if you've got the extra bucks to upgrade, do it -- there's a chauffeur service pick-up, lounge access, and impressive on-flight bar included. Plus, there's the whole free stopover feature in Dubai. But, yes, those will set you back quite a bit more. The New York to Hyderabad route is still $3,552 even with the deal.
Travel dates must fall between November 10, 2019 and May 31, 2020, though a majority of flight availability appears to fall in early 2020. The sale closes November 12 at 11:59pm on the dot, so whip out that credit card and plan your winter vacay.
h/t Travel & Leisure
Sign up here for our daily Thrillist email and subscribe here for our YouTube channel to get your fix of the best in food/drink/fun.
Megan Schaltegger is a staff writer at Thrillist. Follow her @MegSchaltegger.