This Couple Lost Thousands in a Lawsuit Over a Stupid Emoji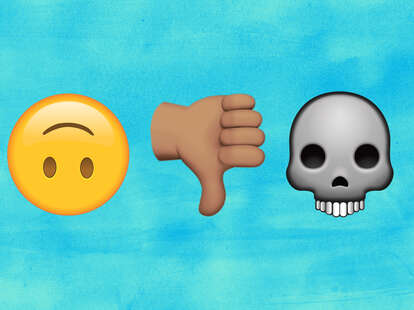 Eric Vilas-Boas/Thrillist
Eric Vilas-Boas/Thrillist
Whether you 😍 them, 😅 at them, or want to 💥 your 📱 when you see one, emoji have become an important lingua franca for anyone who spends any kind of time texting these days (read: everyone). Sending the wrong emoji can be serious business, especially when you're in the process of renting an apartment. One Israeli couple learned that lesson last week, when an Israeli judge ruled they had to pay out $2,200 in a lawsuit that hinged on emoji.
The drama began with a 😊 sent in a text. A potential renter sent the following message -- loaded with emoji -- to a landlord who had just posted a classified ad for an apartment. Here's the text in the original Hebrew (via Room 404):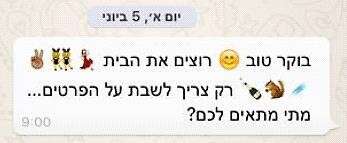 In English, that message reads: "Good morning 😊 we want the house 💃🏻 👯 ✌️☄️ 🐿️ 🍾 just need to go over the details…When suits you?"
That text and the ensuing conversation that followed between the would-be renters and the landlord led the landlord to pull the ad from the classifieds. Then they ghosted on the landlord. When he didn't hear back for a few days, he sued for reliance -- basically the concept in contract law that, if someone promises you something you were relying on, and you act based on that promise, you're "entitled to contend there is a contract [you] can enforce," according to Law.com. According to the landlord, the would-be renters' enthusiastic texts and the emoji therein signaled that they intended to rent it and that he had lost substantial business by keeping the apartment off the market for two months.
Judge Amir Weizebbluth -- who ruled in favor of the landlord in Tel Aviv small claims court -- wrote the following opinion on the matter (emphasis added).
The…text message sent by Defendant…included a smiley, a bottle of champagne, dancing figures and more. These icons convey great optimism. Although this message did not constitute a binding contract between the parties, [it] naturally led to the Plaintiff's great reliance on the Defendants' desire to rent his apartment…These symbols, which convey to the other side that everything is in order, were misleading."
This wound up costing the couple 8,000 shekels -- about $2,200 -- which is apparently the price of admission in the Got Sued Over My Emoji Club. The legal implications of lawsuits hinging on emoji, however, are a bit fuzzier. As Bradley Shear, a lawyer whose worked in social media law, told Mashable, even the various smiley-face emoji carry multiple interpretations based on context, some of which convey positivity 😊, and some of which actually convey something completely different 🙃.
"There's all these different variations, and so what one emoji may mean to one person may mean something slightly different to another," he said.
It's unclear how this would go down in American court (though we've had our fair share of emoji used as evidence in court), but until we do, it won't stop your friends from texting you emoji "sentences" like this one "💃🏻 👯 ✌️☄️ 🐿️ 🍾 " either.
h/t Quartz
Sign up here for our daily Thrillist email, and get your fix of the best in food/drink/fun.