Most Couples Would Prefer a Vacation to an Engagement Ring
A new survey finds most people would take a five-star resort over a five-carat ring.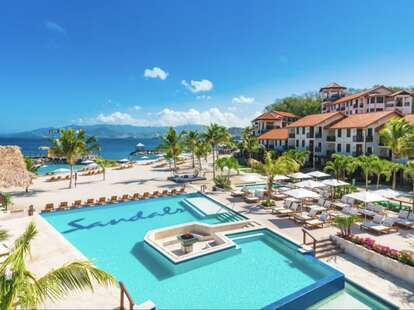 Courtesy of Sandals Resorts
A whopping 72% of couples would rather forego the fat, 5-carat engagement ring for an extravagant vacation instead, which makes sense considering a separate study found 54% of respondents to prefer an experience with their partner over something materialistic. Sandals Resorts is celebrating that mentality.
The hospitality group is currently hosting a Winter Blues Sale that gets you a $150 credit when you stay five nights and $250 off when you stay seven nights or more. With Valentine's Day coming up (aka the most popular day for proposals, *wink, wink, nudge nudge*), skip the ring and put it straight into your vacation fund.
"What kind of vacation ring-skip worthy? Sandals Resorts found that 37% of couples would prefer a luxury all-inclusive beach vacation to an adventurous escape (27%), a culturally immersive trip (26%), or a spiritual retreat (8%)," the company said in a statement to Thrillist.
So where *should* you go? Sandals' Curaçao, Jamaica, Grenada, and St. Lucia resorts are the ideal destinations for a Caribbean proposal. Browse the site for more engagement-worthy destinations and exact pricing. Oh, and don't forget to thank us in your wedding speech.