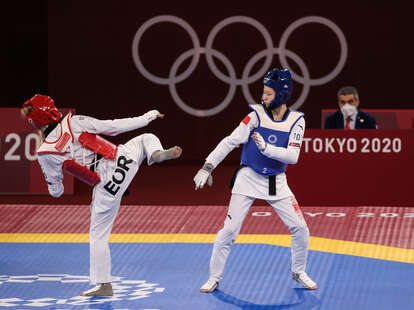 Like the ROC Olympic team, the EOR team has caused some confusion for viewers who have never seen it compete before.
First formed for the Rio 2016 Olympics, EOR is the French acronym for "Équipe Olympique des Réfugiés." That translates to Refugee Olympic Team in English. (The team went by ROA—Team of Refugee Olympic Athletes—in 2016.) The team allows athletes who have fled countries due to war and persecution to compete on the biggest stage for athletics.
How was team EOR formed?
EOR was formed in the summer of 2015 with an eye on competing in the 2016 Rio Games. The International Olympic Committee (IOC), with the assistance of marathon runner and peace ambassador Tegla Loroupe, started a Refugee Emergency Fund to help international aid agencies bring refugees into sports and international competitions.
At the time, the IOC also began a scholarship program to financially support select refugee athletes who wanted to work toward competing in the Olympics. That first year, Team EOR featured ten athletes who had fled countries like South Sudan and Syria due to conflicts, civil war, and oppression, The Independent reports.
In 2016, IOC President Thomas Bach said, "By welcoming the team of Refugee Olympic Athletes to the Olympic Games Rio 2016 we want to send a message of hope for all refugees in our world. Having no national team to belong to, having no flag to march behind, having no national anthem to be played, these refugee athletes will be welcomed to the Olympic Games with the Olympic flag and with the Olympic Anthem."
How many athletes compete with EOR at the 2020 Olympics?
There are 29 athletes on Team EOR that qualified for Tokyo 2020. They are part of a group of 56 athletes from 13 countries that were given scholarships from the IOC through Olympic Solidarity, according to Olympics.com. The final team has 25 scholarship holders and four additional athletes from the International Judo Federation Refugee Project.
The team marched under the Olympic flag during the opening ceremony, entering the stadium second behind Greece.
What happens if an EOR athlete wins a medal?
Should an EOR athlete win a medal, the Olympic flag will be raised and the Olympic anthem will be played.