This Woman Dangled Over Niagara Falls by Her Teeth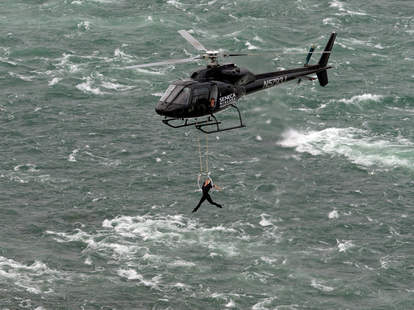 It takes serious courage and -- quite possibly -- brain circuitry that helps you ignore fear to even consider attempting a stunt like dangling above the tallest waterfalls in the world by your teeth and toes, but that didn't stop Erendira Wallenda. The daredevil trapeze artist remarkably pulled off the death-defying feat over Niagara Falls on Thursday morning, all the while being broadcast live in a series of videos and photos that quickly went viral on social media.
"It felt amazing," she said in a press conference this morning after the stunt that left her dangling hundreds of feet above the crashing falls from a small helicopter for 10 minutes. "It was a little more windy than I expected it to be, but then I just put myself back in my backyard where I train all the time."
Her resolve to complete the performance was such that she did it twice while she was up there: "I felt good enough to where I was able to hang by my teeth a second time." She wore a custom-made mouthpiece in order to complete the stunt and, per New York State labor law, was tethered to the helicopter while performing it.
The terrifying feat still involved serious preparation of course. "This is something that we train for, so I'm not just going to go out there and be like, 'Oh, I hope for the best,'" she said.
Wallenda timed her history-making hangout over the falls exactly five years after her fellow-daredevil husband Nik Wallenda walked across the length of the falls on an 1800-foot tightrope. In their press conference her husband told reporters that they're looking to build a permanent attraction in Niagara Falls.
Of course, not everyone was impressed by the feat. The following tweet by Matt Lindner, a self-described "word sandwich artist" and "ex-professional mascot," more or less summed up the disdainful reactions to Wallenda's stunt.
Can someone explain to me how a person voluntarily hanging by their teeth over Niagara Falls is "news" and not "someone being a dumbass"?

— Matt Lindner (@mattlindner) June 15, 2017
Person gonna hang by their teeth from a chopper over Niagara Falls. I dunno, surely you could find something more productive to do 🤷🏽

— SERENITY NOW !!!! (@Tbagshitpants) June 15, 2017
What's clear is that feats like Wallenda's immediately inspire plenty of opinions -- and that's fine. We all know what they say about opinions and assholes.